TORSO-VERLAG e.K.
Inh. Renate Wolber
Obere Grüben 8
97877 Wertheim, OT Bettingen
Telefon 09342/9339-70
Telefax 09342/9339-80
eMail shop@torso-verlag.de
Internet https://www.torso.de

SCV simultan Color Viewer
Simultaneous color inspection under 4 kinds of illumination plus UV-light
Developed for the textile industry to view color standard and color pattern under 4 illuminants simultaniously.
SCV allows the consideration of standard and sample under 4 different kinds of illumination and UV-light at the same time. It is a direct color comparison under the 4 most important kinds of illumination at a glance. The human eye resp. the brain cannot save colors. That's why a color comparison of different kinds of illumination is often very difficult. The simultaneous consideration under 4 different kinds of illumination with and without UV-light makes the color difference in-between a standard and a sample easier.
Fields of application:
product development - how differently do textile colors appear under different light conditions
testing of color stabilization at color and material selection- which color or material combination changes its appearance under different conditions of illumination (how strong or how weak)
testing of color harmony - which pair of color fits best under all conditions of illumination
color and metamerism control in quality check under 4 kinds of illumination at the same time, without changing the illumination
5 installed light sources (all light sources are single dimmable, except UV-light):
daylight D65 (D50 optional possible)
light of department store resp. office TL84
light bulb resp. halogen light
USA - light of department store TL83 or optionally CWF
UV-light, connectible across different light sources
Technical data:
measurements (WHD) 41 x 64 x 41 cm
sample table (WD) 37 x 30 cm
weight 8 kg
connection 230 V/50 Hz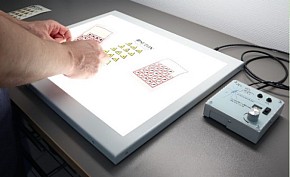 Lighting table with high illuminance of 4700 lx to check plastics, foils glass and liquids on inclusions.
---