TORSO-VERLAG e.K.
Inh. Renate Wolber
Obere Grüben 8
97877 Wertheim, OT Bettingen
Telefon 09342/9339-70
Telefax 09342/9339-80
eMail shop@torso-verlag.de
Internet https://www.torso.de

GL-16e Standard Light Viewer D65
For color matching of transparent industry devices and liquids
Rear projection box for assessing transparent and translucent materials, such as plastics, liquids, glass and other materials. Troublefree viewing is guaranteed by the aging-resistant plastic screen and evenly distributed neutral illumination.
Dimensions of box: (WDH) 64 x 38 x 13 cm
Illuminated surface: 46 x 25 cm, 38 Watt
With standard illuminant D50 for offset films, printed film and slides
With standard illuminant D65 for plastics, glass and film
A grip rail allows films to be easily secured when positioned vertically
Top quality neutral lacquer finish in Munsell N7
Available with D65 or D50 standard light
More sizes of this unit on request
Maintenance-free, tubes can be replaced by the customer
Very low energy consumption through use of tubes
12-month manufacturer's guarantee on the equipment and the tubes
The GL Light Viewer is fitted with feet that can be repositioned, allowing it to be set up or suspended at different working angles.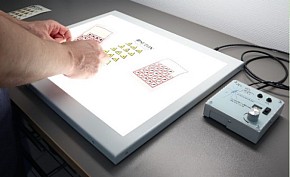 Lighting table with high illuminance of 4700 lx to check plastics, foils glass and liquids on inclusions.
---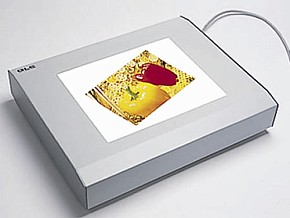 GLX Standard Light Viewer D50 for color matching and color management for pre press.
---