TORSO-VERLAG e.K.
Inh. Renate Wolber
Obere Grüben 8
97877 Wertheim, OT Bettingen
Telefon 09342/9339-70
Telefax 09342/9339-80
eMail shop@torso-verlag.de
Internet https://www.torso.de

UnityColor® Board2light
Lighting board with LED edge lighting for visual checks of foils, glass and liquids in the industry
Light table for professional applications in the industry and in the printing industry with long-lasting high-quality LED technology for the quality control of plastics, glass, foils and liquids.

Transmitted light panel for evaluating transparent, translucent and opaque materials such as plastic, glass, foil or liquids as well as for slides and films, for drawing and tracing. Ideal for testing the homogeneity and translucency of small samples. Inclusions, streaks or different material thicknesses can be recognized immediately. The age-resistant plastic disc and the uniform neutral illumination guarantee trouble-free viewing.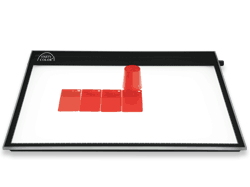 illuminated area DIN A3 with 4700 lx / dimensions 46 x 39 x 3 cm
illuminated area DIN A4 with half width 22 x 39 cm x 3 cm
illuminated area DIN A2 with 2300 lx / dimensions 63 x 51,1 x 3 cm
other sizes up to DIN A0 on request
5 mm thick worktop without disturbing edge
Light color 5000 K, Ra8 >85
A3 versoin Illuminance 4700 lux on the work surface, dimmable from 100% - 0%i
good heat dissipation through a sturdy aluminum housing
Maintenance-free LED edge lighting in the rear housing wall, no heating of the illuminated area
Life expectancy about 50,000 hours
Delivery incl. feet for easier work
"Keyholes" for wall mounting on the back
Degree of protection IP51, protection against splash water
Safety extra-low voltage through plug-in power supply, power switch on the back of the device
Weight 3 kg (DIN A3 Version)
1 year warranty
For the transparency inspection of glass, foils and plastics no real standard lighting with Ra8> 90 is necessary.
Product not suitable for color testing because no standard light.