TORSO-VERLAG e.K.
Inh. Renate Wolber
Obere Grüben 8
97877 Wertheim, OT Bettingen
Telefon 09342/9339-70
Telefax 09342/9339-80
eMail shop@torso-verlag.de
Internet https://www.torso.de

UnityColor Light2go II with standard light D65 (6500 K) or D50 (5000 K)
Mobile standard light luminaire for color matching, inspection and assessment
Finally there is a comfortable possibility to take the important standard light for color judgment with you. Standard light bulb UnityColor Light2go II makes it possible to illuminate objects of each size, places that are difficult to access, a surface of ca. 60 x 40 cm with standard light in order to make a concrete decision on color and finish quality.
Light2go can also be used as a table lamp in the office and if needed it can easily be stowed in the working desk. Lightly it can be transported to the next place of action. Because of its high light intensity of 3500 Lux it can also be used outside (without solar radiation).
The light intensity increased 40% and the weight could be cuttet in half against the first generation.
Stationary glare-free and mobile working in the branches:
painter and varnisher craftsman
architects and construction experts, restructuring experts, consultants
repairing branch: automotive painter, bulging doctor, leather repair
vehicle inspector, experts, average adjuster
model-making, clock repair
dental laboratory for ink absorption on teeth and crowns
furniture manufacturer (in production and repair service)
eye doctors and company doctors for testing color button vision test or color vision test by means of pseudo isochromatic boards
archaeology and in civil engineering (for layers of earth and rocks)
print-/proof matching in agencies and printing shops (available with D50 and in set with 45° probe stand)
Technical data of Light2go II:
standard light D65 (6500 Kelvin)
equipped with 2 high value daylight bulbs
color repeatability index > 95 at an even and spectral distribution
power connection 230 V, 2 x 18 watt energy consumption
ageing resistant , UV-transmissible micro pyramide stray disc and specially developed reflector
desk size ca. 62 x 40 cm
optimal lighted surface ca. 50 x 30 cm
intensity of illumination > 3500 lux on the working desk
distance from the desk to the lamp 30 cm
hand lamp with handle 62 x 20 cm
stable aluminium execution, all compmonents in high value powder coating neutral grey
weight hand lamp 1,75 kg / gross weight only 6,15 kg, shipping weight 7,75 kg
cable length ca. 5 m
Available in 4 versions:
Light2go II with Daylight D65 for color control in industry
Light2go II with Daylight D50 for color control in printing industry
Light2go II with Striplight bicolor for surface control [... more Info]
Light2go II with UV-Licht for optical brighteners, adhesives and primer
The standard light UnityColor Light2go II was developed from Torso-Verlag e.K. and is completely produced in Germany.
You can test and visit this lamp in our exhibition room.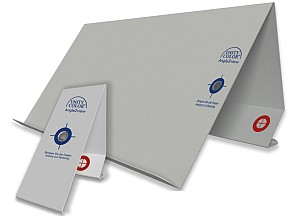 The Setting Angle and the bigger sample holder help to find the correct observer angle of 45°.
---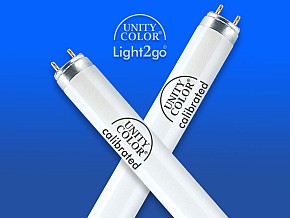 Calibrated spare lamp set for Light2go for all color temperatures, for UV light and strip light.
---