TORSO-VERLAG e.K.
Inh. Renate Wolber
Obere Grüben 8
97877 Wertheim, OT Bettingen
Telefon 09342/9339-70
Telefax 09342/9339-80
eMail shop@torso-verlag.de
Internet https://www.torso.de

UnityColor® Light2match X-III
Standard Light unit for light studiios and Standard Light working places in the XL format
Discontinued model, spare parts and spare lamps supply is sure for the next years.
The color test light UnityColor® Light2match X-III was designed by Torso-Verlag e.K. for homogeneous illumination of large areas with high illuminance. The light elements can be put together to groups of any size. Therefore it is possible to equip even large areas homogeneously with sufficient and defined light.

The use of standard light ceiling lights for visual color inspection is recommended for: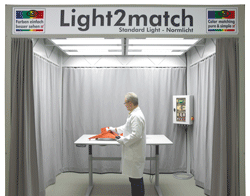 Automotive industry for color inspection of interior parts and paintwork
Textile industry for the color matching of fabrics and finished textiles
Leather industry for testing of larger parts or whole skins
Furniture industry for color assessment on furniture fronts or entire facilities
Machine factories for testing components, panels and control cabinets
Checking the coherence of color concepts and harmonies in research and development
Gravure printers for color control on wallpaper, coatings of wood panels and floors
The most important information about the Light2match with 3 types of light:
Symmetrical ceiling light (emits the light evenly downwards) for the modular construction of a light ceiling for color matching
3 types of light for metamerism detection: D65 (F7), TL84 (F11) and illuminant A
Selection of the daylight tubes guarantees the best possible simulation of daylight D65
Color temperature 6500 Kelvin with daylight-like UVA content, color rendering value (based on CIE standard illuminant D65 as reference light source): Ra ≥ 95
High illuminance due to special reflectors and high number of light sources
Illuminance for single luminaires 2500 lx at a distance of 1.0 m, 2000 lx at a distance of 1.20 m
Illuminance with 4 luminaires 4000 lx at a distance of 1.50 m, with larger systems up to 8000 lx, mounting up to 4 m height
Homogeneous illumination by UVA-transparent prismatic lenses, no reflection of the tubes on glossy samples
Corresponds to the standards for visual color matching DIN EN ISO 3668, DIN 6173-2, VDA 280 Part 8 B and Part 8 C
Stable lightweight construction with gray painted aluminum sheets (25 kg per light module)
Suspension on 4 supplied eyelets with steel cables or fixed screwing to a ceiling construction on the installed 4 threads in the top of the housing
Optionally, we offer a set of suspension material, from 2 lights aluminum profiles with suspension material to secure the connection of the lights
Dimensions 1240 x 800 x 160 mm (L x W x H)
Weight 25 kg, fully equipped
Made in Germany: German development and production
Delivery:
Luminaire housing with light diffusion discs
All fluorescent lamps
Threaded rods with suspension eyes, stainless steel chain, carabiner (without dowel for the ceiling)
Power cable, control cable
Electronic control unit for wall mounting optional
Control panel for under-counter mounting or for milling in the table top optional
Through existing Eulumdat data set for each room a photometric room calculation or the planning of a uniform brightness distribution is possible.

The ceiling light can be used individually, but also several hundred lighting modules in large rooms can be easily realized. We would be pleased to assist you in the planning and realization of your individual lighting studio. Please ask us.

The walk-in lighting cabin with height-adjustable sample table UnityColor® Light2match measuring approx. 3.20 x 2.30 m with 4 light units is available for testing in our showroom. We kindly ask for an appointment.
Technical data and planning examples can be found above under "Downloads".

UnityColor® is a registered trademark of Torso-Verlag.
---
---
---
---
---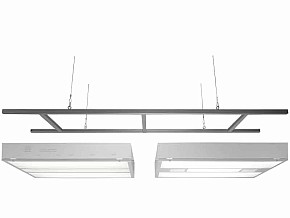 Aluminium frame for 2 ceiling luminaires to adjust the luminaires under the ceiling.
234,00 EUR
(19 % VAT plus.)
---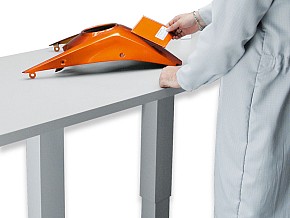 UnityColor Table2work - very sturdy desk, usable for heavy standard light cabines and other heavy working units.
1.170,00 EUR
(19 % VAT plus.)
---