TORSO-VERLAG e.K.
Inh. Renate Wolber
Obere Grüben 8
97877 Wertheim, OT Bettingen
Telefon 09342/9339-70
Telefax 09342/9339-80
eMail shop@torso-verlag.de
Internet https://www.torso.de

SP60 Portable Colorimeter
Measuring geometrics d/8° sphere geometrics
Product discontinued, for the new measuring units please see X-Rite Ci6x-Series.
The colorimeters of the SP-series have a d/8° measuring geometrics. The integrating sphere for the production of diffuse illumination consists of Spectralon, a very durable, high-reflective material. Peel or yellowing of the the sphere wall coating belong to the past. So that the devices of the SP-series are not only for your portable use best equipped, but also for the tougher conditions of the quality control at production bases.
The measurements are performed simultaneously with and without gloss confinement. Thus, the influecne of the surface texture and the gloss on the color can be determined. The involvement of a quality assurance and formulating software is not possible.
light and handy colorimeter for mobile use
well-priced and high-classed apparet
long-living, the tungstic lamp is construed for approx. 500,000 measurements
optional instruction and training in our training room or at your company
demonstration and customer tests of all our instruments after announcement in our training room
Specifications:
Measuring Geometry:
d/8° sphere geometry
Target Window/
Measurement Area:
13 / 8 mm
Standard Observers:
2°/10°
Spectral Range:
400 - 700 nm
Spectral Interval:
10 nm
Inter-Instrument Agreement:
0,40 ΔE on 12 BCRA II tiles
Short Term Repeatability:
0,10 ΔE*ab on white ceramic
Illuminant Types:
C, D50, D65, D75, A, F2, F7, F11 & F12
Color Systems:
L*a*b*, ∆L*∆a*∆b•, L*C*hº, ∆L•∆C*∆H*, ∆E*ab, ∆ECMC, ∆E CIE94, XYZ, Whiteness and Yellowness per ASTM E313-98
Storage Capacity:
1024 standards with tolerances
Measurement Tange:
0 - 200% reflection
Measuring Time:
< 2 sec.
Measurements Per Charge
1000 in 8 h
Data interface:
RS-232, USB with optional adapter
Dimensions H x W x L:
10,9 x 8,4 x 19,6 cm
Weight:
1,1 Kg
Feature:
Removeable battery pack NiMeH / 7,2 V 1.250 mAh, 4 hours charging time
Accessories provided:
Calibration standards, operation manual, AC adapter, carrying case
More technical data on request.
Optional accessories: Adaptable instrument holder, pellet holder, fluid holder, universal holder for 3-dimensional samples, battery charger, battery packs are available on request.
Individual offers, software, training:
The shown prices are recommended prices of the producer.
We are welcome to submit you an individual offer with software and training.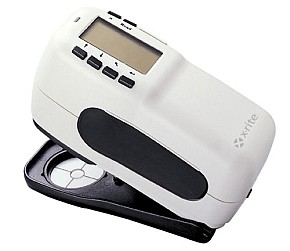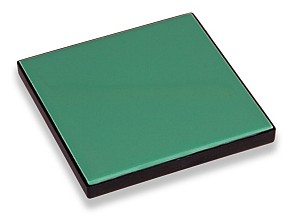 Requested certifiable ceramic tile CCS II Green for the daily control of you spectral photometer.
---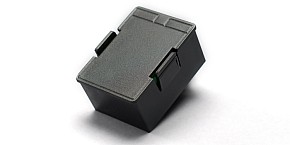 Spare part battery for X-Rite Spectrofotometer of the SP series and the 900 series.
---