TORSO-VERLAG e.K.
Inh. Renate Wolber
Obere Grüben 8
97877 Wertheim, OT Bettingen
Telefon 09342/9339-70
Telefax 09342/9339-80
eMail shop@torso-verlag.de
Internet https://www.torso.de

RAL K5 color fans with altogether 216 colors
Color Fan matte with 195 RAL CLASSIC Colors + 21 perl- und lightning colors
Color Fan glossy with 194 RAL CLASSIC Colors + 21 perl- und lightning colors
RAL Classic K5 Fan matte with 216 classic colors and K5 Fan semigloss with 215 classic colors (surface selection above).
Compact color fan in the format 5 x 15 cm, full-surface color representation as a lacquer coating on paper. Color number and color names are printed in multiple languages ​​on the back. The hard cardboard U-Cover protects the content. The colors can be held directly together, which makes the color selection especially for multicolored projects much easier.
The glossy or matte option gives the viewer a realistic impression of the gloss of surfaces. The RAL K5 color gamut is higher quality than the overview subjects, but not suitable for color adjustments. Please use the color-binding references from the main registers RAL 840-HR or RAL 841-GL.
Color fan matte with 216 classic colors or gloss with 215 classic colors
incl. 15 pearl colors
incl. 6 lightning colors
Format 5 x 15 cm
Full area color displaying 5 x 15 cm, 1 color per each page
Available with a matt or glossy coating surface (selection on above)
Gloss level matte fan: <5 at 60 °
Gloss level of glossy subjects: solid colors 60 - 70 GE at 60 °, light colors and pearl colors> 90 at 60 °
If you order matte and glossy the scale prices will be respected
Description in German, English and French
At a piece number of 100 color fans available with firm imprint on the U cover

From 100 pieces personalized with your logo on the front and back of the cardboard U-cover available, so double advertising space that can be freely designed. Please note when creating the file: Advertising printing is done in high-quality 4-color offset printing in CMYK.

The RAL K5 color fan is the standard color fan with all RAL colors that can be used for all purposes.
The 3 dimensional image shows the extension of RAL Classic system the Lab space.

TIP: Exclusive advertising material, also well suited for equipping sample cases. When you remove the rivets, the color pages can be used as a loose-sheet collection for design purposes
File:
Customer information
Customer information and color list of the RAL CLASSIC color collection
1.09 MB
Download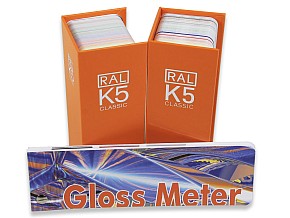 RAL K5 Fan Set matte and glossy with Torso® Gloss Meter as a bundle at an offer price.
83,60 EUR
(19 % VAT plus.)
---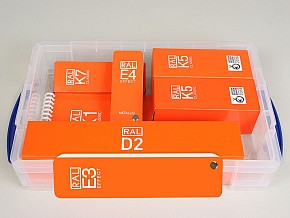 RAL Box CDE with 2531 standard colors from RAL CLASSIC - DESIGN - EFFECT.
---