TORSO-VERLAG e.K.
Inh. Renate Wolber
Obere Grüben 8
97877 Wertheim, OT Bettingen
Telefon 09342/9339-70
Telefax 09342/9339-80
eMail shop@torso-verlag.de
Internet https://www.torso.de

The MA9x-Series by X-Rite with 3 portable multi-angle spectral photometer
Designed for the control of metallic, pearl gloss and effective colors as well as all kinds of interference pigments
The three available models are MA98, MA96 and MA94
They offer up to 19 measuring angles independently from the model and therefore they offer an extensively and correct evaluation of the angle-dependent color tone change. MA9x-instruments offer a generous measuring storage. Via the USB-port or via Bluetooth all measuring values can directly be sent to the supplied color measuring-software X-color QC and will then be evaluated. MA9x-instruments work net-independently with two standard supplied battery packs.
Most important functions and data of the MA-9x-Series:
compared to the predecessors there is an improved positioning and measuring especially with slightly curved and flexible surfaces because of pressure sensors with 3 selectable pressure stages
higher reproducibility because of the system with an improved color distinguishing
number of measuring angles dependent from the model:
MA94:5-measuring angle (analogue to the predecessor MA68II)
MA96:6-measuring angle
MA98:8-measuring angle + 11 side angles for xDNA-analysis (look at the table below)
identifying effect parameters with the technology of X-Rite or XDNA-technology

according to the international DIN- and ASTM-Standards: ASTM D 2244, E 308, E 1164, E 2194; DIN 5033, 6174, 6175-2; ISO 7724; SAE J1545

constant results after scheduled maintenance or certification by modular lamp design
robust and ergonomic design
supervising of the equipment with three sensors for optimized measuring results (pressure switches)
LCD- color display with intuitive menu on the base of symbols
improved lamp power with longer service life
wireless communication via Bluetooth or via USB 2.0
Included in delivery: xColor QC measuring and analysis Software with metallic functions and with xDNA by MA98
included in delivery: 2 lithium ion rechargeable
the data are downward compatible to MA68II
can be used in different surroundings e.g. with MA68II
optional we offer a training in our training rooms
Leasing from ca. 450,00 Euro netto per type up to ca. 635,00 Euro monthly (only for German customers)
Overview over the most important technical data:
Options
MA94
MA96
MA98
Jobs
Job-Workflow with integrated images and Tags
Lighting angles
45° gas filled tungsten lamp
45° gas filled tungsten lamp
45°- and 15° gas filled tungsten lamp
Angular accuracy
Accuracy of angles: ±0,15° (fibre optical transfer with DRS technology)
Spectral range
400 - 700 nm in steps of 10 nm (31 measuring points)
Measuring range
0 - 400% Reflexion
Measuring area
∅ 12 mm
Illuminations
A, C, D50, D65, F2, F7, F11, F12
Standard Observers
2°, 10°
Colorimetric scales
L*a*b*, L*C*h*, ΔE*, ΔE CMC, ΔE DIN 6175, ΔE 2000
Effect angles
according to ASTM 2539
15°, 25°, 45°, 75°, 110°
-15°, 15°, 25°, 45°, 75°, 110°
45°-Illumination: -15°, 15°, 25°, 45°, 75°, 110° plus 4 site angles for xDNA
15°-Illumination: -15°, 15° plus 7 site angles for xDNA
Effect parameters
-
-
xDNA, Flopindex
Repeatability
average 0,03 ΔE* on white tiles
Inter instrument agreement
average 0,18 ΔE* on BCRA tiles
Measuring time
ca. 2 Seconds
Memory
250 Standards, 1000 Probes
Interface
USB, Bluetooth
Color display
2,7" LCD color display with background illumination
Battery lifetime
up to 1500 Measurements, 2 Lithium-Ion Akkupacks
Please ask for price and other details with the button "Price Inquiry" above.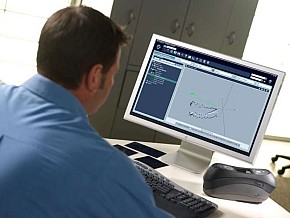 Quality assurance software supporting all X-Rite spectrophotometers and colorimeters.
---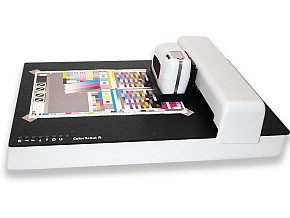 Color measurment easily: The XY-measuring table for the automatically color measuring in qualtiy assurance.
---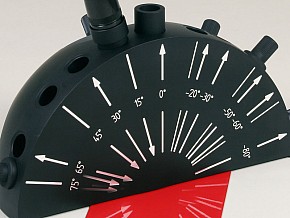 Demonstration unit Gonio-Vision-Box for visualization of effect colors like a gonio spectrophotometer.
1.395,00 EUR
(19 % VAT plus.)
---