Our Exhibition Room
In our exhibition room every visitor has the opportunity of getting information about color references, colorimetry and standard light. We are looking forward to advising you. Visitors with own material patterns are allowed to execute own measuring tests and to test viewing booths of different producers. Our exhibition room is opened from Monday to Friday from 10 a.m. to 4 p.m. Different visiting hours can be arranged by phone. We also offer interesting events concerning color. The appointments for our seminars, special exhibitions and lectures can be found here appointments and seminars. Basic topics of the permanent exhibition: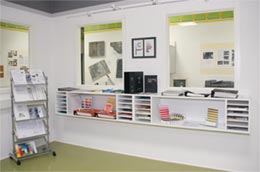 Color references:
Presentation of popular color systems and color collection, purpose and
handling of products and implements
Practical aspects of using color systems and their tools
Colors and surface finishing in the printing industry
Possibilities and limits of cmyk
Handling of color comparison, tolerance arrangement with clients
Munsell color system of ordering, standard color and customized colors
Customer color tolerance charts used for quality check
Individual and customized color code books, production facilities like varnish
printing, serigraphy and offset printing
Construction of color profiles for clients and own color code books limited editions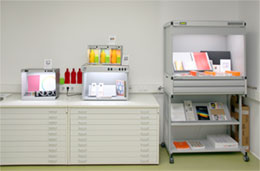 Standard light in the industry:
What is standard light and where is the equipment used
Light colors and their usage
Advices for color patterns
Light experiments with different exhibits and metamerism
Practical tests of differently build viewing booths
Testing of defective color vision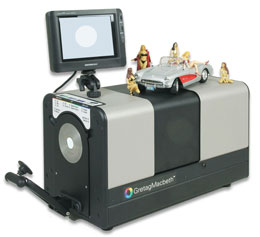 Color metrology and gloss measurement:
Different measuring geometries and their usage
Different measuring instruments for different practical requirements
System solutions and concepts for color quality management based on the industry in cooperation with independent specialists of colorimetry

Our firm is directly located on the A3 between Aschaffenburg and Würzburg, freeway exit ramp 66 Wertheim-Lengfurt. Counterpart to our company the popular shopping paradise "Wertheim Village" FOC is situated. The environment offers many interesting tourist attractions just like the historical old city of Wertheim with a beautiful castle, the romantic Tauber Valley and of course the little wineries with excellent drops of the Frankish region.