TORSO-VERLAG e.K.
Inh. Renate Wolber
Obere Grüben 8
97877 Wertheim, OT Bettingen
Telefon 09342/9339-70
Telefax 09342/9339-80
eMail shop@torso-verlag.de
Internet https://www.torso.de

RAL F5 Information Card with a total of 213 colors
The Information Card displays 213 RAL CLASSIC colors at a glance and can also be used as a poster. It has holes punched into the card and is produced to an A4 standard size and is therefore ideal for adding to presentation packs. Impression of the color numbers without color names. Swatches Lacquer print in 22 x 12 mm format, glossy finish. The pearl and luminous colors can be realized only insufficiently in lacquer printing and are therefore glued in as a strip.
overall size 47.5 x 29.7 cm, folded 21.5 x 29.7 cm, color illustration 1.2 x 2.2 cm
all Colors at a Glace
gloss
edition 2006
For color adjustment (color formulation), quality control or specific color specifications, please use the color charts from the main registers RAL 840-HR or RAL 841-GL. The three new RAL CLASSIC colors, market launch 2009 (3028 pure red, 6037 pure green and 6038 luminescent green) are included.
Larger quantities on request. We will gladly make you an offer.
TIP:
Also suitable for training purposes, especially for illustrating a color collection. Personalization is easy manageable with labels.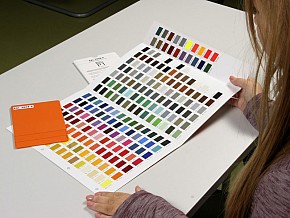 File:
Customer information
Customer information and color list of the RAL CLASSIC color collection
1.09 MB
Download