TORSO-VERLAG e.K.
Inh. Renate Wolber
Obere Grüben 8
97877 Wertheim, OT Bettingen
Telefon 09342/9339-70
Telefax 09342/9339-80
eMail shop@torso-verlag.de
Internet https://www.torso.de

Original RAL 841-GL Color Register
RAL 841 GL Color Register with 199 RAL glossy colors
The RAL 841 GL Color Register is specifically designed for providing samples of high-gloss coatings and finishes in RAL CLASSIC colors. The accuracy of the sample color is recorded on each register card. As a result, these are the best quality color cards of the RAL CLASSIC series. Color-compatible templates for 196 RAL CLASSIC colors as individual folding cards. Card size open 21 x 14.8 cm - color reproduction 105 x 148 mm in high gloss. Each card contains additional information about the color shown: the colorimetric values ​​of the original pattern XYZ, the original template color distance, the remission curve, and the issue date. The color samples are subject to change in use and should therefore be replaced every 2 years.
A5-sized (14.8 x 21 cm), color illustration A6-sized (10.5 x 14.8 cm)
color distance from the original standard spectrophotometrically documented on each card
cards are also individually available
delivery in a black macro box
RAL 841-GL doesn't contain the following colors, which are included in the RAL 840-HR: RAL 1035, RAL 1036, RAL 2013, RAL 3032, RAL 3033, RAL 4011, RAL 4012, RAL 5025, RAL 5026, RAL 6035, RAL 6036, RAL 7048, RAL 8029, RAL 9022, RAL 9023 and the iron mica colors RAL 9006 and RAL 9007

Please note: The register is not complete by the manufacturer! The missing cards are deducted from the total amount. We cannot offer a guarantee for a delivery date for the unavailable color cards. More information by phone.

Since 2020/21 there are 3 new colors on the RAL system, which are available as register cards:
RAL 2017 RAL Orange
RAL 9012 Reinraumweiß
RAL 6039 Fasergrün

The 3D image shows the extent of the RAL Classic color collection in the Lab color space.

TIP: The tabs are also available separately, e.g. as a replacement card for damaged or frequently used color pattern. For quality control, production sites can be equipped with any number of cards in one color.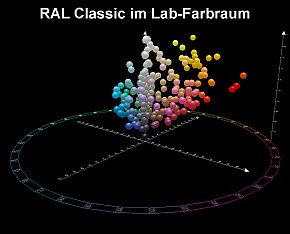 File:
Customer information
Customer information and color list of the RAL CLASSIC color collection
1.09 MB
Download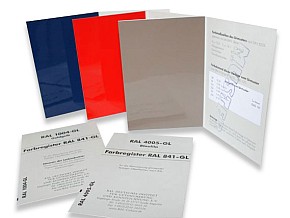 Each color can be taken as a single page. Usable for the supplement of your register.
20,80 EUR
(19 % VAT plus.)
---