TORSO-VERLAG e.K.
Inh. Renate Wolber
Obere Grüben 8
97877 Wertheim, OT Bettingen
Telefon 09342/9339-70
Telefax 09342/9339-80
eMail shop@torso-verlag.de
Internet https://www.torso.de

RAL CLASSIC color sheets DIN A4
All RAL CLASSIC series colors are available as single pages in the format of DIN A4 (21, 0 x 29, 7 cm).
Designed in semi-matt, reflectometer value R = 30
Single color patterns are a practical supplement in professional handling with color systems. Each color can be taken as a single page.
You can:
Match colors in a widespread way in order to realize a realistic color impression
Form own color collections or home standards
Create color tolerance cards
Divide the sheets and give it to everyone who participates in the project
Archive defined colors in projects
When you need single pages as spare pages for the K6-ring book please indicate "punched 4 times "in your order.
Well suited to creating your own color profiles or to compile in-house color palettes for manufacturers who do not offer their products in all RAL colors.
For areal color design, the color fields in the subjects are often too small, large color patterns give a more realistic color impression. For an exact color adjustment we recommend the cards from the main registers RAL 840-HR or RAL 841-GL.
The sheets are printed on the back several times with the color number and can therefore also be shared. This facilitates color matching with customers, suppliers and project work.
TIP:
RAL 9006 and 9007 are anticorrosion paints and not suitable as a template for decorative coatings. When ordering multiple sheets at the same time there are attractive scale prices.
Ordering notes:
Please place the required quantity in your basket and type the required pages into the field "comments" on page 2 during the order process.
Because of packaging-related reasons single color sheets will never be shipped with other products in the same shipment and will be not considered at the calculation of shipping cost in the basket. For shipping and packaging we always calculate 6,90 Euro net shipping cost.
Single sheets and replacement pages are generally excluded from return.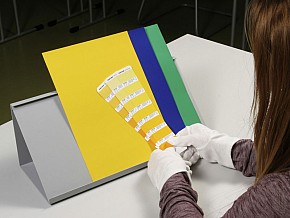 File:
Customer information
Customer information and color list of the RAL CLASSIC color collection
1.09 MB
Download