Color Card for Adjusting Baking Ovens and Chip Pans
Adjusting Food Devices bevore producing Foodstuff
To produce fine and equal foodstuff like bread rolls and pommes frites it is necessary to adjust the converting machines on temperature and working time. The best way to do this is to compare the baking result with goal color cards.
Brown Scale for small cookies
Brown Scale for testing electrical range of ovens and grills for household use.
Shipping time: Not longer available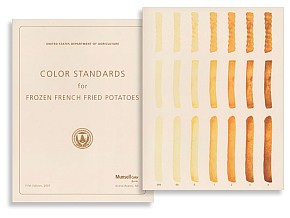 USDA French Fry Standard
Color card for perfect french fried - 5 pcs. packaging for long performance.
134,00 EUR

19 % VAT plus.
159,46 EUR

19 % VAT incl.