New: UnityColor® LED2match Lighting Panel
New: UnityColor® LED2match Lighting Panel for visual color testing
From 2021, the LED2match© Lighting Panel with nearly 800 LEDs will form the basis of all new UnityColor® lighting units. It offers nearly unlimited numbers of light colors and light sources for color testing. It can be used for all UnityColor® light booths and ceiling luminaires. A scaleable solution for large ceiling systems will be available from the second quarter of 2021.
What are the advantages of LED light booths over fluorescent light booths?
Perfect lighting is available immediately after switching on – no need to wait for the lamps to heat up like you do with fluorescent light booths.
Frequent short ON/OFF cycles are no problem at all – in contrast to fluorescent lamps, where they will dramatically shorten the service life.
The service life of LEDs is approximately 10 times longer than that of fluorescent lamps.
lower energy consumption than fluorescent lamps with the same luminous flux.
No transient peaks when turning on – unlike when starting up fluorescent lamps.
Easy maintenance – the diffuser just needs to be cleaned once a year.
All imaginable light types can be freely adjusted from the software.
The illuminance for each light type can be freely adjusted with the aid of the software.
The EU commission decided to ban the production of T8 fluorescent tubes (used most commonly in light booths) with effect from September 2023. T12 fluorescent tubes (used in older cabins) are banned from September 2021.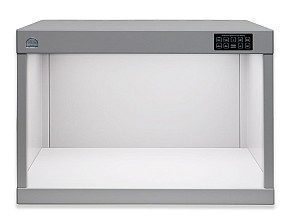 UnityColor Light2go IV LED Light Booth
LED Light Booth with mobile app and 6 predefined light sources for useful features for...
Shipping time: On Request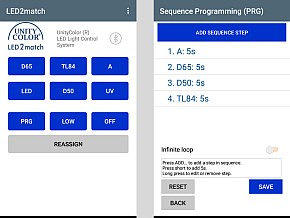 LED2match App for LED Light Booth - License 1
Mobile app for LED light booths with keys for 6 light sources, programmable light...