TORSO-VERLAG e.K.
Inh. Renate Wolber
Obere Grüben 8
97877 Wertheim, OT Bettingen
Telefon 09342/9339-70
Telefax 09342/9339-80
eMail shop@torso-verlag.de
Internet https://www.torso.de

MiniMatcher 2e Series
standard light viewing system model MM-2e, illuminating area 46 x 34 x h 25 cm, 3 stages of expansion
Compact color judging systems with different sources of lights for consideration and estimation of color patterns for inks, color and varnish, plastics, textile, paper and dyestuffs and so on, ideal for , cosmetics industry, coating, printing and package, advertising.
New! Now with fx-light for metallic-pigments, inks, coloring optionally available.
MiniMatcher 2e are available with each 3 sources of light, D65 (optional D50), TL84, bulb light (Homelight respectively Incandescent) They can be additionally delivered with UV-light for detection of optical brightener (see drawing) and with FX-light for judgment of metallic areas.
All our standard viewing systems are populated with specially manufactured and certificated daylight-bulbs (D50, D65, D75). You can easily combine MiniMatcher and CMB-models in the production and you have the same daylight on every location.
MiniMatcher are easy to handle and they can be fixed in between minutes without tools. A hour meter is available by additional charge.
the only standard viewing system with optional FX-light for judgment of metallic-colors and -pigments optimized
high quality finishing by Munsell N7
individual assembly possible, ask us
maintenance-free, tubes can be changed by customer, no calibration necessary
because of tubes very low energy consumption
2 sizes by choice, sizes look page down
Ask us for an optional assembly. We will give you advice.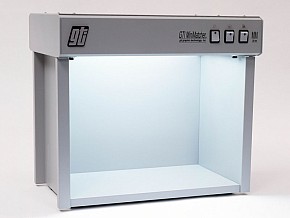 Light diffusion lens for MM Series for spreading the light into the light cabin to avoid mirroring.
---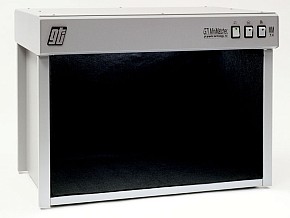 Magentic black insert panels for nearly all Models of MiniMatcher and CMB standard light cabins.
---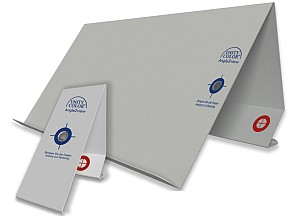 The Setting Angle and the bigger sample holder help to find the correct observer angle of 45°.
---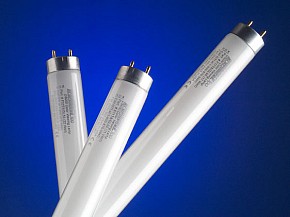 Complete Spare Lamp Set for the Standard Light Cabins of the MM-Series with all Light Tubes incl. UV-light.
---