TORSO-VERLAG e.K.
Inh. Renate Wolber
Obere Grüben 8
97877 Wertheim, OT Bettingen
Telefon 09342/9339-70
Telefax 09342/9339-80
eMail shop@torso-verlag.de
Internet https://www.torso.de

Luminance Meter LS-150 / LS-160
from Konica-Minolta
The spot luminance meters LS-150 and LS-160, categorized in the upper range of the DIN quality class B, are among the best hand meters on the market. The SLR (single lens reflex) optical system allows precise targeting and ensures that the viewfinder shows the exact area to be measured, even at very short distances. This makes even precise focussing very easy. In addition to the measurement field and the measurement environment, the viewfinder also shows the measured luminance value. The pistol grip makes handling of the unit very secure. We have given special attention to minimize flare and to give precise V(λ) correlation (CIE relative photopic luminosity curve). With the help of a close-up lens, areas as small as 0.4mm diameter can be measured.
Light sources of all types can be measured with the LS, for example signal, traffic lights, airport lighting, lamps, LED's, picture tubes, etc., just about anything that emits light. Now you can, for example, guarantee minimum brightness, exchange lamps that are too dark early enough, build quality assurance into the production of lamps, or check indirectly illuminated objects like movie screens.
Leasing from ca. 70,00 Euro net monthly.
Main features:
SLR (single-lens-reflex) optical system
Spot measurement for small target areas, with optional lenses down to 0,4 mm
Measuring values: luminance, luminance difference, luminance relationship, hill- and vale measuring
Luminance direct readable in view finder and display
1000 data memories
USB 2.0 connector for data exchange and power supply
User calibration and color-correction functions for wide ranging support
Light scatter fuse
Measuring and reporting software CS-S20w included
Options: 4 Achromatic lenses, mirror reflex finder, long ocular, AC adaptor (see tab "Accessoires")
Specifications:
Model
Luminance Meter LS-150
Luminance Meter LS-160
Type
SLR spot luminance meter for measuring light-source and surface brightness
Acceptance angle
1°
1/3°
Optical system
85mm f/2.8 lens; SLR viewing system; flare factor less than ≤ 1 %
Angle of view
9°
Focusing distance
1014mm (40 in.) to infinity
Minimum measuring area
Φ 14.4mm
Φ 4.8mm
Receptor
Silicon photocell
Relative Spectral Response*
Within 8% (f1´) of the CIE spectral luminous efficiency V (λ)
Response time
FAST: Sampling time: 0.1s, time to display: 0.8 to 1.0s; SLOW: Sampling time: 0.4s, time to display: 1.4 to 1.6s
Luminance units
cd/m2 or fL (switchable) (Candela/m² or Foot Lambert)
Measuring range
0,001 bis 999.900 cd/m
0,01 bis 9.999.900 cd/m²
Accuracy
Lv ±2%+2 digit (under 1cd/m2)
Lv ±2%+1 digit (over 1cd/m2)
Lv ±2%+2 digit (under 10cd/m2)
Lv ±2%+1 digit (over 10cd/m2)
(Illuminant A measured at ambient temperature of 20 to 30°C/68 to 86°F)
Repeatability
Lv ±0.2%+1digit
Lv ±0.2%+1digit
(Measurement subject: Illuminant A)
Temperature/humidity drift
Within ±3% ±1 digit (of value displayed at 20°C/68°F) within operatingtemperature /humidity range
Calibration mode
Minolta standard/user-selected standard (switchable)
Color correction factor
Set by numerical input; range: 0.001 to 9.999
Reference luminance
10 ch; set by measurement or numerical input
Measurement modes
Luminance; luminance ratio; peak luminance or luminance ratio
Unit class
Class B unit according to DIN 5032-7
Display
External: Large multi digit LCD with backlight (with dimmer function) and additional indications
Viewfinder: 4 -digit LCD with LED backlight
Data communication
USB 2.0
External control
Measurement process can be started by external PC software
Power source
2 Mignon AA-Batteries, USB, AC power connector (Option)
Operating temperature/humidity range
0 to 40°C, relative humidity 85% or less (at 35°C) with no condensation
Storage temperature /humidity range
-20 to 55°C, relative humidity 85% or less (at 35°C) with no condensation
Dimensions
79×208×150mm (3-1/8×8-3/16×5-7/8 in.)
Weight
850g (30 oz.) without battery
Standard accessories
Lens cap; Eyepiece cap; 2 AA-size batteries, Wrist wrap; Case, USB cable, Data management software CS-S20, (AC adaptor optional, see tab "Accessoires")
For the LS-150 and the LS-160 are the following close-up lenses available, please ask us:
| | | | |
| --- | --- | --- | --- |
| Close-up Lens | Minimum Measuring Area CS-150 | Minimum Measuring Area CS-160 | Item Order Code |
| No. 153 | Ø 8.0 mm | Ø 2.7 mm | 1804- 740 |
| No. 135 | Ø 5.2 mm | Ø 1.8 mm | 1804- 741 |
| No. 122 | Ø 5.2 mm | Ø 1.1 mm | 1804- 742 |
| No. 110 | Ø 1.3 mm | Ø 0.4 mm | 1804- 743 |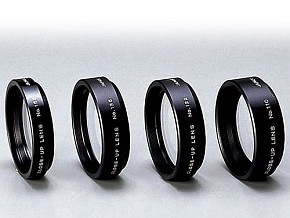 Achromat lenses are used to limit the measuring area of the Konica-Minolta luminance meters.
---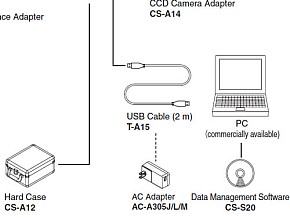 AC power supply AC-A305M for Konica-Minolta luminance meter is recommended for continuous operation.
---