TORSO-VERLAG e.K.
Inh. Renate Wolber
Obere Grüben 8
97877 Wertheim, OT Bettingen
Telefon 09342/9339-70
Telefax 09342/9339-80
eMail shop@torso-verlag.de
Internet https://www.torso.de

VS 450 stationary spectral photometer for non-contact color measurings
Measuring geometry 45° illumination / 0° measuring, contactless
VS450 – non-contact spectral photometer with gloss measuring
The spectral photometer VS450 by X-Rite is a table instrument with 45°/0° geometry for a non-contact color and gloss measurement on liquid, wet or dry samples. The low-price colormeasuring instrument makes the acquisition of 2- and 3-dimensional objects possible. The integrated glossmeter prepares gloss values out of an angle of 60°.
The special thing about the instrument is the capability to analyze different liquid and powdered substances but also other traditional heavy materials like leather in a natural and unnatural condition.
In contrast to the instruments with contact measuring the measuring opening is put on the sample. It works with a distance of 38 mm. Therefore the separating layer out of glass or plastics, that were actually used as a protection, can be dispensed. Consequently there are reliable results.
The non-contact VS450 color-measuring instrument makes a low-price beginning into color measuring possible. Special application fields are:
Color measurements of food, liquids, raw material, gel-like substances, wet coat samples
Archeology and soil physics – measurements of minerals, findings, soil samples, earth, sand
Construction industry – measurements of bulk material and powdery materials, measurements of moist paintings
Cosmetics industries – color control on powdery and pasty substances, liquid and semi liquid care products
Pharmaceutical industry – color control on raw material, liquids, powder
Gloss measurement 60° corelates
Product features of the X-Rite VS-450 non-contact spectrophotometer:
Contactless color-measuring without changing the sample surface
Long standing reliable usage with LED-full spectrum light
Double beam technology with 31 measuring points (10nm measuring distance from 400 to 700 nm)
Fast, easy sample positioning, Line of Site™- field of vision
High measuring precision by Active Visual Targeting, that projects a clearly visible illuminated area around the measuring field on the sample surface
Fast, uncomplicated change between two orifices (6 and 12 mm) via mouse click without recalibration
Integrated gloss measuring for similtanous gloss measuring out of one 60° angle

Specifications VS-450 spectral photometer with gloss measuring:
| | |
| --- | --- |
| Measuring Geometry: | 45/0° with 2 light sources |
| Target Window/Aperture: | adjustable 6 mm or 12 mm |
| Standard Observers: | 2° / 10° |
| Spectral Range: | 400 - 700 nm |
| Spectral Interval: | 10 nm |
| Inter-Instrument Agreement: | 0,15 dE* (12 BCRA-tiles) |
| Measurement Range: | 0 - 150% reflectance |
| Measuring Distance: | 38 mm nominal, lens to measuring area |
| Geometry of Gloss Measurement: | 45°/0°, 60° corellatet |
| Accuracy of Gloss Measurement: | 0-10 GE plus/minus 0,2 GE / 10-100 GE plus/minus 0,6 GE |
| Repeatability | 5-92 GE, max. 3,0 GE, average 1,5 GE |
| Data Interface: | USB 2.0 |
| Abmessungen H x B x T: | 14,6 x 24,80 x 15,24 cm |
| Gewicht: | 2,24 Kg |
| Light source: | Full spectrum LED, lifetime > 20 million flashes |
For more technical details please ask us.
The instrument has no own display and no storage. It is operated with an optional QS-software Color iQC.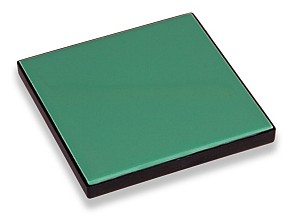 Requested certifiable ceramic tile CCS II Green for the daily control of you spectral photometer.
---