TORSO-VERLAG e.K.
Inh. Renate Wolber
Obere Grüben 8
97877 Wertheim, OT Bettingen
Telefon 09342/9339-70
Telefax 09342/9339-80
eMail shop@torso-verlag.de
Internet https://www.torso.de

X-Rite RM200QC Colorimeter
Camera-based colorimeter - putting the fun into colorimetry technology
The RM200QC Colorimeter lets you compare the color between standard and sample in the same way as the "big" spectrophotometers. It stores 20 standards and 350 samples, which is sufficient for comparing samples that routinely arise on site with the standards saved and for saving the measurement values obtained at the end of the day in report form or as a CSV file on the PC.
Checking for the right color is now fun with this cell phone-sized device, as it's easy to handle with a 5-point navigation and enter key for menu management and thumb-operated measure key on the side. The device saves text input and hue images for each sample and thus brings a whole new dimension to traditional colorimetry.
The new operating concept has the highest possible quality of color information about the samples, making it quick and easy to compare color.
Trial offer:
We offer on potential buyers in Germany and Austria a one-week trial with a charge for use of 50 Euro, which will of course be offset in full if you purchase the device (plus delivery cost which we cannot recharche).
Leasing from 39,00 Euro per month (only for German customers)
Functions:
Standard/sample quick comparison
Stores 30 standards and 350 samples
Types of illuminant D65/10° and A/10°
Standard and sample absolute values
ΔE* can be set as required - ΔE*, ΔL*, Δa*, Δb* individual values
Sample image, spectrum locus graphics, visual color samples of standard and sample
PDF test report and CSV generated by USB connection
Simple color comparison procedure:
Click on Color Match in the menu and select Measure Standard
Place the colorimeter onto the specified color sample and activate the measurement function with the thumb
When the measurement has been taken, the display automatically moves to Measure Sample.
Place the colorimeter onto the surface of the sample and activate the measurement function with the thumb
The display will now show Pass or Fail with ΔE* depending on the pre-set color tolerance ΔE* (Figure 1) and in other windows (Figures 2 - 4) the absolute values L*a*b* C*h°, the deviations ΔL*a*b*, the spectrum locus and a photo of standard and sample.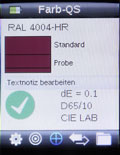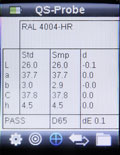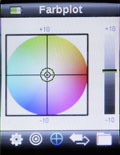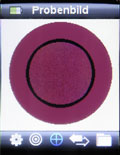 RM200QC technical data:
Measurement geometry 45°:0°: LED illumination 45° (8 x 3-color LEDs for visible light, 1 x UV LED), Measurement 0° (camera)
Measurement aperture: 7 mm, 3.5 mm, can be switched while measuring
Built-in calibration plate
Illuminants/observer: Types of illuminant D65/10° and A/10°
Color systems: CIE Lab
Short-term repeatability: typically 0.1 ΔE94 (D65/10°) on white
Measurement time: approx. 1,8 seconds
Storage capacity: 30 standards, 350 samples
Report generated as a PDF file or data can also be published as a CSV file via a USB connection
Display: 4.5 cm color monitor
Operating keys: 4-directional navigation button with the enter key in the center; two-stage preview and measure button
Power supply: 3.7V / 1200mAh lithium-ion battery/charged via active USB port
Dimensions: approx. 14.5 x 5.3 x 3.7 cm
Weight 165g
Manufacturer's one-year warranty and guarantee with option to extend guarantee to two years and/or take out a service contract
Accessories supplied with goods: transport and storage case, belt bag, USB cable, disk driver and manual, certificate of calibration

The built-in calibration standard is located underneath the device in the cover for the camera aperture. As a result, the measuring aperture and the standard are protected against dirt and the calibration tile cannot be "lost" (see right for detailed picture).
Perfect for getting started with colorimetry, when quick color comparisons are needed but the results obtained do not need to be communicated to others. For trades and crafts, goods in checks, random sampling, quick comparisons, monitoring trends...
Not suitable for industrial production with strict quality requirements (e.g. the automotive industry) and internal and external data transfer. Limited suitability for curved parts.
The RGB and/or XYZ measurement values cannot be directly compared with those obtained from spectroscopes. The values will not be inferior but they may vary. Our tests are extremely consistent with professional instruments with 45/0°geometry.