TORSO-VERLAG e.K.
Inh. Renate Wolber
Obere Grüben 8
97877 Wertheim, OT Bettingen
Telefon 09342/9339-70
Telefax 09342/9339-80
eMail shop@torso-verlag.de
Internet https://www.torso.de

Temperature controlled color samples for the calibration of color measurement equipment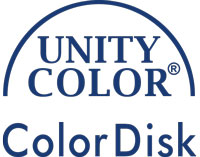 NEW -
Commercially available color samples are subjected to thermochromic color changes, which can make it difficult to compare calibration measurement results. The ColorDisk avoids this problem by controlling the temperature of the color samples during the calibration process.
The ColorDisk replaces the CCS II green tile and the complete CCS II tile set.
A simple user interface, in the form of a traffic light on the ColorDisk, makes it very easy for the user to recognize when the ColorDisk has reached the setpoint temperature of 27 ° C ± 0.1 ° C and the calibration can be carried out at constant temperature. This increases the comparability of the calibration results by reducing the thermochomaticity by a factor of 10 to 20.
Properties of the color fields:
The color fields are spread over the visible spectrum.
The edges of the spectral curves of the 4 chromatic colors are chosen so that any errors of the colorimeter are well recognized.
The color fields are intended to be used for 1 year in average use (1 - 2 x per week).
Facts and figures:
electronic temperature control to ± 0,1°C
autom. switch off after 1 hour
6 colors from the complete color spectrum: Cyan, Red, Black, Yellow, Green, White
avoids thermochromie
wide color spectrum
LED signal for set temperature 27,0° C
For light protection ColorDisk glued in sturdy cardboard cover and fixed by elastic band
Delivery in a transparent DIN A5 folder incl. USB cable for power supply
Technical data:
Dimensions approx. LWD 120 x 118 x 8 mm
Weight approx. 125g
Color field size 34 x 34 mm
USB port (<0.9A)
Power supply from USB 1.0
Micro-USB plug, charging cable is sufficient, data cable not necessary (only with optional software)
The color fields of the ColorDisk are guaranteed to be color-stable for 1 year from the date of commissioning (date of purchase on the back of the product). After one year you can order a new ColorDisk with 25% discount on the list price when returning this ColorDisk.