TORSO-VERLAG e.K.
Inh. Renate Wolber
Obere Grüben 8
97877 Wertheim, OT Bettingen
Telefon 09342/9339-70
Telefax 09342/9339-80
eMail shop@torso-verlag.de
Internet https://www.torso.de

Pantone Synthetics Single Color Pattern 10x11 cm (Swatch Card TSX )
Due to the increasing demand for synthetic materials in the textile and fashion industry, Pantone's Synthetics Swatch Cards provides designers, colorists and buyers with an additional creative tool for color selection, color determination and color communication.
- Double-layered polyester pattern TSX 10x11 cm
- 203 new colors
- 100% polyester, not recycled
- No optical brightener
- Individually wrapped in a protective cover against UV radiation
Since each color is available as a single sample, you can:
Apply a wide range of colors to get a realistic color impression
Build your own color collections or house standards
Share the patterns and give each one involved in the project a part
Archive defined colors in projects
Please specify the exact color numbers for orders, but the color names are not enough!
Example: 13-2820 / T
S
X / Party Pink → Color Number / T
S
X →
S
stands for
S
ynthetics / Color Name
File:
Polyster Swatch color list
Table of contents with details of the color numbers and color names of the 203 shades of the FHI Polyester Swatch Book.
416.76 KB
Download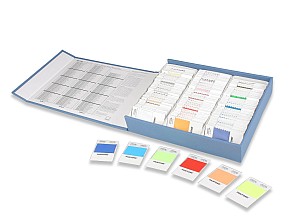 New Swatch Box with 203 new Pantone colors for synthetical materials.
---