TORSO-VERLAG e.K.
Inh. Renate Wolber
Obere Grüben 8
97877 Wertheim, OT Bettingen
Telefon 09342/9339-70
Telefax 09342/9339-80
eMail shop@torso-verlag.de
Internet https://www.torso.de

PANTONE Graphic+Print Metallic Chips Solid Coated Book
Color template with 655 PANTONE metallic colors for coated paper - 54 new trend colors.
Metallic color swatches for printed graphics and packaging. Ring binder with removable chips on coated paper
In the current edition (initiated spring of 2019), all PANTONE Metallic inks printing colors have been combined in a book and 54 new trend colors have been added. The new base color Rose Gold serves as the basis for the new 54 colors.
Please note: The Pantone numbers are printed on the chips of the ring binder pages, but not the ink mixing recipes.
The metallic colors have a higher opacity than conventional inks and can be used as a special effect or as a finishing for high-quality printed matter.
The new Pantone Metallic Chips Book contain:
655 Metallic colors for printed graphics and packaging
54 new trend colors
New basic ink: Rose Gold
6 tear-out chips per color in 2 x 2 cm format
Arrangement and numbering of the color strips corresponds to the Metallics Guide
Printed on coated paper
With metameric card for D50 in the fan for checking the ambient light conditions
Includes a paper chip saver for storing loose chips
Delivery in sturdy folder, 22 x 26 cm
Description in the introduction with technical information in English
Replacement pages can be ordered separately on request
New and expanded Edition 2019
The ultimate tool to select from noble metallic colors for high-quality printed matter and for sophisticated packaging design. The Chips are a valuable tool for designers to create custom color collections and as a color reference for color matching with customers and suppliers.
Note for users:
The PANTONE metallic paints were offered for a few years as 2 separate books
- Pantone Premium Metallics, 300 colors (Edition 2015)
- Pantone Metallics, 301 colors (Edition 2010)
In the new Pantone Metallic Chips Coated from the beginning of 2019 these two color palettes have been integrated unchanged.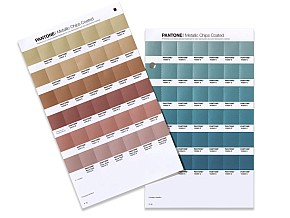 File:
Metallic Chips coated color list
Color list with all colors from the metallic chips coated ring binder.
361.56 KB
Download