TORSO-VERLAG e.K.
Inh. Renate Wolber
Obere Grüben 8
97877 Wertheim, OT Bettingen
Telefon 09342/9339-70
Telefax 09342/9339-80
eMail shop@torso-verlag.de
Internet https://www.torso.de

PANTONE Graphic+Print Metallics Solid Coated Color Guide
Color template with 655 PANTONE standard colors for coated paper - 54 new trend colors.
Metallic color swatches for printed graphics and packaging
In the current edition (initiated spring of 2019), all PANTONE Metallic inks printing colors have been combined in a fan and 54 new trend colors have been added. The 54 new colors were mixed with the new base color Rose Gold.
The metallic colors have a higher opacity than conventional inks and can be used as a special effect or as a finishing for high-quality printed matter.
The new Pantone Metallics Solid Coated contain:
655 Metallic colors for printed graphics and packaging
54 new trend colors
New basic ink: Rose Gold
6 colors per page, swatches 2 x 4.3 cm
Fan size 23.5 cm x 4.3 cm
Printed on coated paper
With metameric card for D50 in the fan for checking the ambient light conditions
- Description in the introduction with technical information in English
- New and expanded Edition 2019
The ultimate tool to select from noble metallic colors for high-quality printed matter and for sophisticated packaging design. Used for color communication, specification and production
Note for users:
The PANTONE metallic paints were offered for a few years as 2 separate color fans
- Pantone Premium Metallics, 300 colors (Edition 2015)
- Pantone Metallics, 301 colors (Edition 2010)
In the new Pantone Metallics Guide Coated from the beginning of 2019 these two color palettes have been integrated unchanged.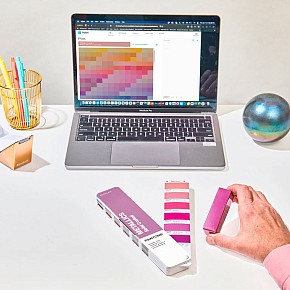 File:
Metallic coated color list
List with all colors from the metallic coated color fan.
361.57 KB
Download