TORSO-VERLAG e.K.
Inh. Renate Wolber
Obere Grüben 8
97877 Wertheim, OT Bettingen
Telefon 09342/9339-70
Telefax 09342/9339-80
eMail shop@torso-verlag.de
Internet https://www.torso.de

Pantone Cotton Planner Ring Binder
PANTONE Textile Color System Cotton Planner TCX
Ring Binder with 2625 standard colors on cotton for Fashion & Home FHI
New edition since March 2020 with 315 new colors
Basic tool for product development and presentation: All Pantone textile colors always at hand - suitable for customer service or for design works in the office. The Cotton Planner is a useful basic equipment for color selection and color advice and also well suited for beginners who want to get an overview of the variety of the Pantone color palettes.
Compact cotton color references in a handy loose-leaf 22 x 26 cm
all 2625 colors of the PANTONE Textile Color System as cotton, the 315 new colors are integrated
75 sheets, each sheet with 35 color patterns
glue in cotton samples 15 x 15 mm
colors are chromatically arranged according to color families
the arrangement of the colors is equivalent to the Color Guide Paper Edition and Cotton Selector
all colors with PANTONE number
also included: a declaration of the Textile System, numerically index with cross-reference for chromatically arrangement as alphabetically index with color names for better orientation (several languages)
TCX is the designation for color references on cotton, color references on paper got the same number, but the designation TPG for textile paper
contains an access code for free download PANTONE COLOR MANAGER software
TIP: All 2625 standard colors of Pantone textile color system are available as two-ply cotton samples, 10 x 11
cm (open 10 x 22 cm).
The Pantone Textile color palette is an international color standard.
File:
Color list of the new colors
Color list of the new 315 Pantone colors from the FHI system from March 2020.
372.55 KB
Download
Pantone FHI color list
Table of contents of the current colors of the Pantone FHI textile color system (as of 2020).
1.82 MB
Download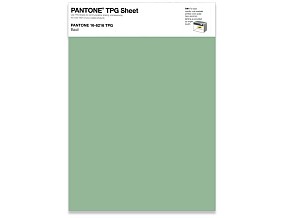 TPG Sheets are available for all 2,625 of the Fashion, Home & Interiors colors as full 8.5"x11" sheets of lacquer coating on paper.
20,90 EUR
(19 % VAT plus.)
---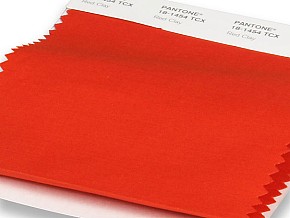 Cotton Color Swatch Card available vor all 2625 Pantone Textile Colors TCX, apllicated on card bord.
15,30 EUR
(19 % VAT plus.)
---