TORSO-VERLAG e.K.
Inh. Renate Wolber
Obere Grüben 8
97877 Wertheim, OT Bettingen
Telefon 09342/9339-70
Telefax 09342/9339-80
eMail shop@torso-verlag.de
Internet https://www.torso.de

TORSO ColorTraining Basics 1 – practical exercises for colorimetry
The exercise folder "TORSO ColorTraining Basics 1" contains 21 single exercises and all in all 185 color chips 2 x 2 cm as a practical addition to theory of colorimetry knowledge
The exercises are completed by topics on practical aspects of colorimetry and industrial color evaluation. The exercises with color pattern chips support the color understanding and improve the dealing with color systematically.
The new color training-tools are ideal for the practical orientated color lessons. They can be used in vocational schools, media-academies, in company lessons and in colorimetry seminars. For seminar leaders there are fluctuate prices for class-equipments from 20 folders on.
The new training material is ideal for:
Trainees of a coat or color subject
Students that professionally have to deal with color
Going-to-be colorists and tones
Career-changers in industrial color communication
All people that communicate and evaluate colors
Trainers that want to complete the theory teaching by practical exercises
Use as:
Training for color distinction
Test – if a person can match and evaluate colors and if a person recognizes the smallest nuances
Hiring criteria for colorists
Examination criteria for vocational schools
Deepening the knowledge that was acquired during the lessons
Exercises for practical dealing with color copies and for visual color matching
The 8 color training tools contain: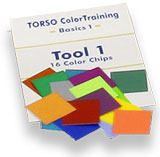 Tool 1 – three-dimensional color body, all three basic features of colors, color position, 2 exercises with 16 color chips
Tool 2 – the visual spectrum, L*a*b* and L*C*H* color room, 3 exercises with 24 color chips
Tool 3 – three attributes of color, to evaluate color according to color tone, brightness and colorfulness, 3 exercises with 50 color chips
Tool 4 – construction of a color system – systematical depiction of a color tone according to brightness and colorfulness, 3 exercises and 31 color chips
Tool 5 – evaluation of nearly neutral colors according to brightness and color tone, 2 exercises with 36 color chips
Tool 6 – color values, spectral features and communication of color measuring results, 3 exercises with 12 color chips
Tool 7 – color and surrounding, simultaneous contrast, effect of afterimages, color measuring exercises, 3 exercises with 8 color chips
Tool 8 – color differences and color tolerances, verbal description of color differences, 2 exercises with 8 color chips
Beginners repeat the exercises over several weeks in order to deepen the knowledge and use it as an exercise for the color understanding.
During our in-house-exhibition (28 – 31 March 2012) the exercise folder was presented and all professional visitors out of the coating or plastics industry were excited about the concept and the execution.
Note: Until today the color training tools are only available in German language.