TORSO-VERLAG e.K.
Inh. Renate Wolber
Obere Grüben 8
97877 Wertheim, OT Bettingen
Telefon 09342/9339-70
Telefax 09342/9339-80
eMail shop@torso-verlag.de
Internet https://www.torso.de

New SpectraLight QC Standard Light Booth from X-Rite
With the SpectraLight QC Standard Light Booth, X-Rite is setting new standards in visual color-matching for quality control. The proven SpectraLight III model has been fully reworked and equipped with many new options. The basic principle remains the same, and the SpectraLight QC also simulates daylight in accordance with CIE with its patented filtered tungsten halogen technology. Filtered halogen light is currently the most precise means of simulating natural daylight.
The SpectraLight Light Booth series has been used for more than 20 years for production and quality control in virtually all industrial sectors for visual color-matching in design, technology, printing, research and development. The new model offers precision and user-friendly operation of the highest level and is the preferred application for leading automotive manufacturers and their suppliers.
What's new? An overview of the new options:
Built-in luxmeter for all illuminants for monitoring the illuminance.
Software for creating reports (in English) – the booth can be connected to the computer via a USB cable. The report on the respective match can show the illuminants used, information on the standard, sample, inspector and many other details.
Customer specifications for matching (e.g. illuminants, light strength) can be saved and called up as required.
The SpectraLight QC is equipped with 7 illuminants:
- The basic configuration for Europe is: Daylight D65, TL84, U30, CWF, Illuminant A, Horizon and UV light
- The customer can also select two types fluorescent illuminants - instead of TL84, U30 or CWF: TL83, U35
The fluorescent lights (i.e. fluorescent tubes) can be dimmed, thus easily meeting customer requirements and specifications.
To regulate the daylight bulbs (D65 or D50), three actuators (attenuator, aluminum grids - additional charge) can be supplied: 25%, 50% and 75%. These can be fitted to the daylight filters without affecting the spectral distribution or color temperature. The actuators can be set up in the user menu to keep the lux data accurate.
Overall the device consumes less energy, as the two daylight discharge tubes have been reduced from 750 to 500 Watt and the filter and reflectors optimized while maintaining the same light quality.
The lightness has been increased from 1500 to 2000 lux with reduced power consumption.
The booth is supplied in two neutral shades of gray: Munsell N 7 (traditional lacquer finish light gray 43.1% R) and Munsell N5 (mid-gray 19.8% R).
The SpectraLight QC can be ordered for 100, 115 or 230 volts for use worldwide.
Important information for the user:
With the SPL III and previous models, the UV light had to be switched to daylight manually. Without the addition of UV light, filtered halogen light does not create the UV level specified in the CIE standard for daylight simulation (without UV = illuminant C, which is no longer used).

NEW for the SpectraLight QC:
Calibrated UV illumination as an add-on: the UV illumination is calibrated to be consistent with daylight; it is measured separately and added to the correct level.
Alternatively, it is possible to program the device in such a way that the calibrated UV illumination is switched on for the light source D65 at the same time.
These quality features remain the same:
Uses patented filtered tungsten halogen technology from X-Rite/GretagMacbeth
Available as a light booth or as a ceiling light
A radio remote control system can be supplied for booths and ceiling lights
A number of ceiling lights can be interconnected (light studio) using a control system
Light sources can be programmed to allow color samples to be viewed without the need for a manual switching process
With several illuminants, metamerism tests can be carried out
UV light can be used on its own or in combination with other light sources to identify optical brighteners and fluorescent dyes
Prismatic diffuser to achieve homogeneous light distribution on worktop
Meets or exceeds all key industry standards ( ASTM D1729 / ISO 3664 / DIN 6173 / CIE Publication 51 / BS950 / QS 9000 / SAE J 361 / JIS Z 8723 / GM 9220P / AS 4004)
The elapsed time meter displays the running time separately for each illuminant
Easy to maintain: the light diffuser folds down to allow access to all bulbs, reflectors and daylight filters
A service contract/recertification with test report can be provided on request.
Delivery with test certificate, valid for 1 year
Viewing area: approx. WxDxH 91 x 61 x 60 cm
External dimensions: approx. WxDxH 94 x 61 x 70 cm
Device complies with RoHS Directive 2002/95/EC
Weight approx. 60 kg
12 months' warranty – can be extended to 24 months for an additional charge
Leasing from 129,00 Euro net monthly.
The light booth SpectraLight QC is the replacement product for the SpectraLight III since 2013. The actual unit offers a more consistently illumination than the version before and needs less energy (1000 Watt, instead of 1500 Watt as the version before) in the daylight function.
SpectraLight QC emits a maximum of luminance intensity of 2000 Lux (instead of 1500 Lux as the version before), if you demount the standardly before the halogen lamps mounted attenuators (aluminium tins with small vents).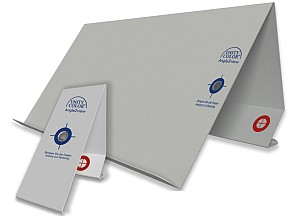 The Setting Angle and the bigger sample holder help to find the correct observer angle of 45°.
---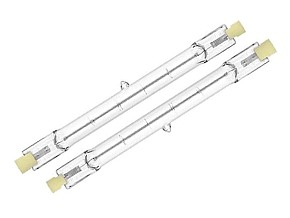 Halogen spare lamps for X-Rite Spectra Light light booth for daylight and horizon, changing every 400 hours.
168,00 EUR
(19 % VAT plus.)
---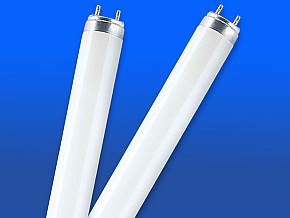 Complete Spare Lamp Set for the Standard Light Cabin SpectraLight QC from X-Rite.
---