TORSO-VERLAG e.K.
Inh. Renate Wolber
Obere Grüben 8
97877 Wertheim, OT Bettingen
Telefon 09342/9339-70
Telefax 09342/9339-80
eMail shop@torso-verlag.de
Internet https://www.torso.de

Leading Gauge Ruler
Combination for measuring types and screens
With envelope and detailed description at the envelope.
1.) Type measuring functions:
The indispensable tool for typographic manufactures according to measure, e.g. when "copying" of folders, business letters and forms.
pt character size measuring
line space of 6 - 15 Pica POINT
line measuring from 0,0028 up to 2,5 pt. and from 0,001 up to 1,0 mm
DIN paper pulp
ruler in mm and inch
2.) Screen measuring functions:
The ideal controller and analyzer not only for lithografs. Direct determining of the screen width and the screen angle by interference samples or by screen point comparison:
screen width measuring of 50 - 300 lpi
screen angle measuring
grey tone samples from 5 to 100 % in 5 % steps
and in the following screen widths: 70, 135, 150 lpi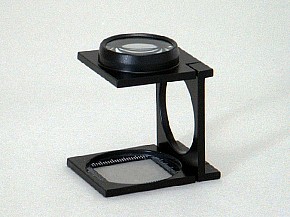 Pocket Lens for controlling diapositives, prints, offsetlithos, proofs - made of black lacked metal.
26,60 EUR
(19 % VAT plus.)
---