TORSO-VERLAG e.K.
Inh. Renate Wolber
Obere Grüben 8
97877 Wertheim, OT Bettingen
Telefon 09342/9339-70
Telefax 09342/9339-80
eMail shop@torso-verlag.de
Internet https://www.torso.de

Color Eye 7000A stationary colorimeter
Measuring geometrics d/8° sphere geometrics

This page is only for your information, product was stopped and is not longer available!
The spectrophotometer Color Eye 7000A is a reference spectralphotomater for the plascits, color, print and textile industries. Measurement accuracy, repeatability and equipment compliance are unbeatable - and this at a measuring time of less than one second. To this performance see the two-ray technology with two spectral analyzers, with are regulary reviewed automatically and so provide maximum long-term stability.
A touch screen shows always the current status of the instrument and allows a simple configuration. The xenon pulse light source does not require a warm-up and has as a cold light bulb a very long life. br> The large 25,4 mm aperture ensures best results. But also smaller samples can be measures with the other apertures with 15 mm diameter and the sizes 7,5 x 100 mm and 3 x 8 mm. Of course, the respective used apeturer is detected automatically by the colorimeter and it follows a focus by manual adjustment of the lense distance. So, in translucent samples the focus can be kept small with the choice of the aperture in order to minimize stray effects.
Reference lab colorimeter
xenon pulse light source for 2 million measurements
supplied with 2 different measuring apertures (see below in the price table)
controllable with color measurement software
optional PC software available
optional instruction and training in our training room or at your
demonstration and customer tests of all devices to advance in our training room
Specifications:
| | |
| --- | --- |
| Measuring Geometrics: | d/8° sphere geometrics |
| Target Window/Measurement Area: | 3x8/15 | 7,5x10/25,4 mm |
| Standard Observer: | 2°/10° |
| Spectral Range: | 360 - 750 nm |
| Spectral Interval: | 10 nm |
| Inter-Instrument Agreement: | 0,08 dE |
| Measurement Range: | 0 - 200% reflectance |
| Measuring Time: | < 1 sec. |
| Data Interface: | USB, RS-232 |
| Dimensions H x W x L: | 38,73 x 27,9 x 71,7 cm |
| Weight: | 31,75 Kg |
| Feature: | Transmission measurement (even of liquids), UV filter |
More technical data on request.
Optional accessories: Extensive accessories such as other apertures are available on request, we advise you.
Individual offers, software, training:
The shown prices are recommended prices of the producer.
We are welcome to submit you an individual offer with software and training.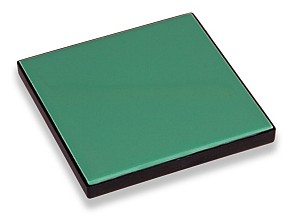 Requested certifiable ceramic tile CCS II Green for the daily control of you spectral photometer.
---