TORSO-VERLAG e.K.
Inh. Renate Wolber
Obere Grüben 8
97877 Wertheim, OT Bettingen
Telefon 09342/9339-70
Telefax 09342/9339-80
eMail shop@torso-verlag.de
Internet https://www.torso.de

NCS Album with removeable Samples
Natural Color System
The NCS Album gives you a complete and clear overview of the NCS system in combination with color samples in A9 format which can be taken out, and attached to drawings, mood boards, specifications etc. The NCS Album is divided into two parts; the first contains the grey colors and the hues from Y to R90B and the second part stretches from B to G90Y. A practical storage box is included. The tight insert pockets keep the samples in place and a matt-laminated, whiter paper gives you the best background for the colors. All the 1950 NCS samples can be ordered separately as refills.
Sample format: 52x37 mm (A9) with 3 samples / pocket.
File:
NCS color list
List of all 1950 color numbers for finding shades or ordering individual color patterns.
340.31 KB
Download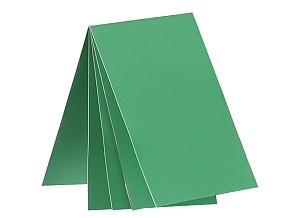 Little color pattern pad DIN A9 with NCS single color patterns for all matt NCS series color tones.
---