TORSO-VERLAG e.K.
Inh. Renate Wolber
Obere Grüben 8
97877 Wertheim, OT Bettingen
Telefon 09342/9339-70
Telefax 09342/9339-80
eMail shop@torso-verlag.de
Internet https://www.torso.de

PANTONE Graphic+Print Solid Chips coated & uncoated with 294 new Colors
Set of 2 ring binders with removable chips of 2161 Pantone standard colors on coated and uncoated paper for graphic and print.
In the current version (launch autumn 2019) the book set now contains 2161 Pantone spot colors, each with two paper grades. All new colors of recent years are integrated and arranged chromatically (by color family) for intuitive design tasks. The 294 new trend colors have the color numbers 4001 to 4294.
Edition 2019
2 ring binders in set with removable chips of the current Pantone spot colors for offset printing on coated and uncoated paper. Please note: The Pantone numbers are printed on the chips of the ring binder pages, but not the ink mixing recipes. All pages can be specified by specifying the page no. be ordered separately.
The new Pantone Solid Chips c&u contain:
2161 PANTONE special colors (spot colors) on two paper grades
Printed on coated and uncoated paper
6 detachable chips per color in 2 x 2 cm format
7 colors per page, page size 14,5 x 23,5 cm
Arrangement and numbering of the color strips corresponds to the formula guide
Chromatic color arrangement (sorted by color tones, arranged from light to dark)
Uniform layer thickness of the colors: coated: 1,3 g/m², uncoated: 1,6 g/m²
Printed on standard paper in order to comply with current printing requirements
Color Index to better locate each color
With serial number for free download of the PANTONE COLOR MANAGER software
Delivery in sturdy folder, 22 x 26 cm
Description in the introduction with technical information in English
New and expanded Edition 2019
The Solid Chips are a valuable tool for designers to create custom color collections and as a color reference for color matching with customers and suppliers.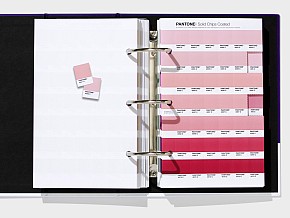 File:
List ColorChips u 2019-2016
List ColorChips u 2019-2016
Content of Pantone Color Chips UNCOATED and Comparison List with color number-/page assignment of editions 2016 --> 2019.
If you use a Color Chips Book edition 2016, you can easily find the color number with page assignment in edition 2019.
Download als PDF.
Tip: The color number-/page assignment is equal on c & u, the different is only the cover.
715.22 KB
Download