TORSO-VERLAG e.K.
Inh. Renate Wolber
Obere Grüben 8
97877 Wertheim, OT Bettingen
Telefon 09342/9339-70
Telefax 09342/9339-80
eMail shop@torso-verlag.de
Internet https://www.torso.de

PANTONE Pastels & Neons Guide coated and uncoated - Edition 2019
Graphic+Print Color template with all 210 PANTONE pastel & neon colors for coated and uncoated paper
Color fan with 154 chromatically arranged PANTONE pastel and 56 neon colors, printed on coated and uncoated paper in one fan deck, inclusive formulas for mixing colors from the basic colors. The current edition of 2019 has a new cover page, the content of the fan has remained the same.
Each pastel color are mixed out of the 7 pastel basic colors: yellow 0131, red 0331, magenta 0521, violet 0631, blue 0821, green 0921, black 0961. Basic colors for Neon: PANTONE 801, 802, 803, 804, 805, 806 und 807.
The basic colors shown can also be used for design purposes. The fan contains technical advices in English.
The new Pantone Pastels & Neons Color Guide contain:
154 pastel colors / 7 basic colors of it
56 neon colors (fluorescent colors) / 7 basic colors of it
Printed on coated and uncoated paper
Color fields 4,3 x 2 cm
Fan format 23,5 cm x 4,3 cm
With metamerie checker for testing the ambient light according to D50
Contains an access code for free download PANTONE COLOR MANAGER software
New Edition 2019 with new cover page
Pastel and neon colors are used to enhance high quality printed matter. With these colors special accents can be set, they are therefore a valuable tool for designers to create individual color combinations.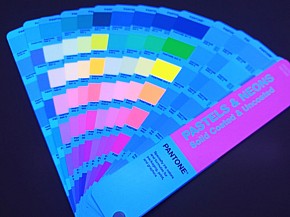 File:
Pastels&Neon color list
List with all colors from the Pastel & Neon color fan.
434.91 KB
Download