TORSO-VERLAG e.K.
Inh. Renate Wolber
Obere Grüben 8
97877 Wertheim, OT Bettingen
Telefon 09342/9339-70
Telefax 09342/9339-80
eMail shop@torso-verlag.de
Internet https://www.torso.de

Munsell Soil Color Charts
Version 2009, new edition 2022
Color plates for soil science.
For agronomists, biologists, archeologists, geologists, zoologists and other scientists to document specimen colors.
The Soil Color Charts Munsell were developed in collaboration with U.S. Pat. Soil Conversation Service.
The folder contains 13 wipe-off color charts with a total of 443 colors for the determination / classification of soil and rock colors as well as their texture. The included colors and color codes (Munsell Notation) are internationally known and can also be used for the color determination of other natural products.
The color division takes place in these steps:
7 pages, one page each with the colors: 10R, 2.5YR, 5YR, 7.5YR, 10YR, 2.5Y and 5Y
2 pages gley, blues and greens
1 page "White Page" with very bright and almost neutral colors, Value: 8.5 / 9.0 / 9.5, Chroma: N / 7.5R / 10YR / 2.5Y
1 pages 10Y and 5GY for sand and desert soils
1 Page 5R for Australian and Southeast Asian soils
1 page 7.5R for tropical and semi-tropical soils
Properties:
Color areas approx. 12 x 15 mm with color name diagrams and soil structure diagrams
Openings between the color chips facilitate viewing
Delivery in folder about 15.5 x 20 cm
Explanation in English
Individual color plates are not available from the manufacturer.
The carrier material of the boards is made of plastic and can, especially on the back, damp wiped (not watered). The color surfaces consist of a paint coating on special paper and must be protected from heavy soiling and too much moisture (can be wiped off). The manufacturer is not liable for improper handling of the panels.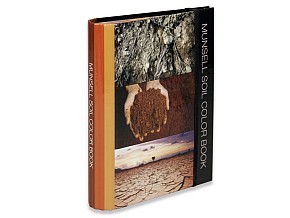 File:
Soil Color Chart color list
List with the color Numbers of the Soil Color Chart
593.37 KB
Download