TORSO-VERLAG e.K.
Inh. Renate Wolber
Obere Grüben 8
97877 Wertheim, OT Bettingen
Telefon 09342/9339-70
Telefax 09342/9339-80
eMail shop@torso-verlag.de
Internet https://www.torso.de

UnityColor® Standard Light Luminaire with 2 Light Sources D65 & D50
Discontinued model, spare parts and spare lamps supply is sure for the next years.
Ceiling lamp Light2match X-II with 2 daylight types D65 and D50 or assembly with 2-stage illuminance for D65 or D50 or D65 and TL84. For applications in screen printing, digital printing or in the textile industry for color comparison of textiles with textiles patterns or for catalog production.

To activate optical brighteners in textiles, plastics or paper, the X-II also has UVA light.

Technical specifications:
Ceiling luminaire for a uniformly illuminated working surface approx. 100 x 80 cm, for larger products several luminaires can be mounted side by side (see selection menu set of 2)
microprismatic UV-transparent light diffusion plate for homogeneous light distribution
Suspension approx. 1 m away from the work surface
Illuminance at D50 and D65 each about 2000 lux
Illuminance for 2-stage D50 or D65: Level 1 approx. 2000 lx / Level 2 approx. 4000 lux
UVA - light for optical brighteners
Programmable wall-mounted control unit with under-counter control panel
Ceiling light with 4 suspension eyes for rope / chain suspension, also with screws for ceiling installation (at least 10 cm distance to the ceiling for heat dissipation)
Supplied with 1 set of suspension material, from 2 lights aluminum profiles with suspension material to secure the connection of the lights
Housing dimensions 124 x 80 x 16 cm
Connection 230 V / 50/60 Hz, fuse B16 A
The height of the work surface should be approximately 90 - 100 cm from the floor in a standing workstation for visual color matching. Depending on the size of the person also higher, so that the 45 ° angle is observed on the samples.
The workstation should be installed in a darkened room or room corner with minimum extraneous light influencing the light quality of the luminaire.
Above-mentioned illuminance levels refer to the center of the work surface, depending on the ambient color, wall color or brightness.

Ceiling lights with daylight are recommended for the following applications:
Color sorting of products, spare parts, food
Color testing of standards and samples under daylight without the need for metamerism testing
When equipped with D50 & D65 used in printing houses, screen printers, packaging printers, textile design and textile production
When equipped with 2-stage D50 inspection of large-area print patterns in screen printing or digital printing
When equipped with 2-stage D65 Inspection of vehicle accessories, interior parts and other samples that are too big for a standard lighting cabin
For more freedom of movement in color assessment
We will gladly advise or assist you in planning larger light spaces.

Delivery:
Luminaire housing with light diffusion discs
All fluorescent lamps
Threaded rods with suspension eyes, stainless steel chain, carabiner (without dowel for the ceiling)
Power cable, control cable
Electronic control unit for wall mounting optional
Control panel for under-counter mounting or for milling in the table top optional
Please request our product overview with installation examples.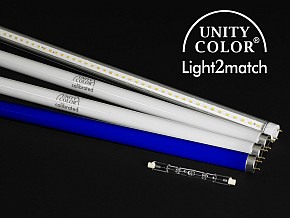 Replacement tube set with all light types for all UnityColor Light2match ceiling light models.
---