TORSO-VERLAG e.K.
Inh. Renate Wolber
Obere Grüben 8
97877 Wertheim, OT Bettingen
Telefon 09342/9339-70
Telefax 09342/9339-80
eMail shop@torso-verlag.de
Internet https://www.torso.de

Walk-In Light Booth for professional visual Color Matching in the Industry
Exhibition Unit with 4 Lighting Modules Light2match X-III Discount.
The walk-in light cabin with more than 6.5 m² inside surface becomes the central focus of the visual color assessment in your company. When it comes to professional color matching and metamerism testing a generous work area with high illuminance is irreplaceable.

The FourCabin has a height-adjustable table with a worktop of maximum 2.50 m x 1.50 m. The cabin space is big enough for 2-3 people.

Why a walk-in light cabin:
Glare-free work with high illuminance due to high suspension position of the lighting elements
Uniform illumination of the work surface
full freedom of movement in the color evaluation
Up to 3 people can view patterns at the same time
Easy testing of large products, e.g. vehicle parts, wood panels, machine components and much more
External light insulation through completely closed walls
Durable product, all connections are plugged and screwed
Made in Germany, completely manufactured in Wertheim
Technical Data UnityColor® FourCabin:
Outside dimensions approx. WDH 3.20 x 2.30 m x 2.85 m
Weight approx. 300 kg
Sturdy aluminum construction, powder-coated
Painted lightweight walls 30 mm thick, 4 smooth sliding elements on the front, which can be easily removed for large products
Can be equipped with all UnityColor® ceiling lights, 2 or max. 4 lights are recommended
Now also with strip light luminaire for surface control
Suspension height of luminaires variable due to optional components
For use in production halls with ceiling lighting a set of ceiling light guards is available
Delivery:
Aluminum construction neutral gray powder-coated
Lightweight walls and sliding doors with rails, neutral gray lacquered
Suspension rails for UnityColor lights (for other brands on request)
Set of screws
Delivery in wooden box, approx. 3 m long with pallet skids
The FourCabin can be easily built by the customer with 2 persons. Easy disassembly for relocation. Assembly service on request.
We would be pleased to advise you on the right choice of location for your FourCabin. The ceiling height should be at least 3.05 m.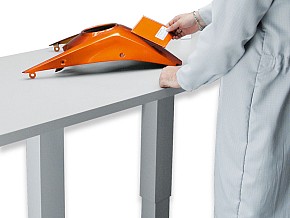 UnityColor Table2work - very sturdy desk, usable for heavy standard light cabines and other heavy working units.
---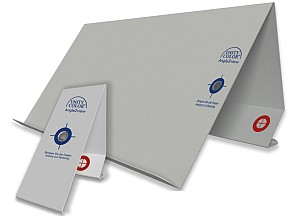 The Setting Angle and the bigger sample holder help to find the correct observer angle of 45°.
---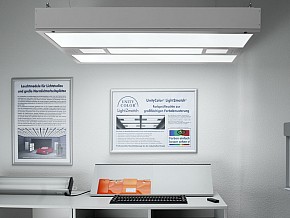 Standard Light ceiling unit for visual color testing on big industry items up to complete cars.
---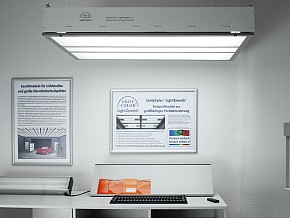 Standard Light Luminaire with 2 löight sources for metamerism checks.
---