TORSO-VERLAG e.K.
Inh. Renate Wolber
Obere Grüben 8
97877 Wertheim, OT Bettingen
Telefon 09342/9339-70
Telefax 09342/9339-80
eMail shop@torso-verlag.de
Internet https://www.torso.de

Height adjustable Standard Light Workstation UnityColor® "LightTable"
Stable and height adjustable working table for color matching - if nothing should be mounted on the ceiling
The table frame in anodised aluminum with brackets to attach the light module can be used for color matching in an environment with little external light influence.

Due to the open design of the LightTable is well suited for bulky exhibits, especially in the incoming goods inspection.
Dimensions W 135 x D 85 cm x 203 cm high in basic position
height in basic position: table plate 82 cm, luminaire lower egde 173 cm
electric height adjustment +400 mm, 3 memories for 3 different large persons
Tabletop 135 x 80 x 3,4 cm with resopal lamination in NCS 3000N
Integrated control panel in the tabletop for easy access to the keys with optional cut out possible
2 control panels for height adjustment and for light control under the front egde
Meets the requirements of DIN EN ISO 3668
with using the height adjustment persons with different sizes meets the needed 45° angle of view
The control unit can be mounted next to the frame on the wall or on the metal frame
The LightTable can be extended in width for the installation of 2 light modules side by side up to 4 m total width.

The LightTable is suitable for all UnityColor lighting modules:
Light2match X-IV: Lights D65, TL84, A, LED
Light2match X-II / DT: Lights D65 & TL84
Light2match X-II / DD: Lights D65 & D50
We would be pleased to advise you, call us under +49 9342-9339-70.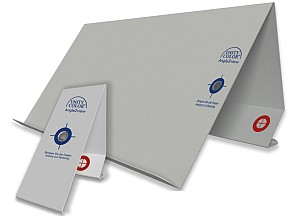 The Setting Angle and the bigger sample holder help to find the correct observer angle of 45°.
---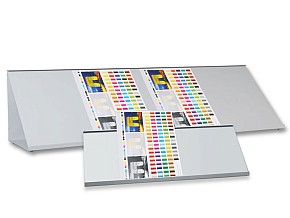 For color matching in the standardlight cabin or under the Standardlight-Overheadluminaire.
---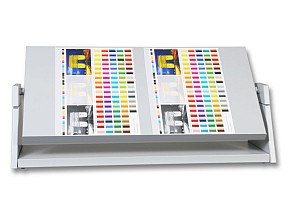 With steplessly adjustable viewing angle for color matching in the standardlight cabin.
---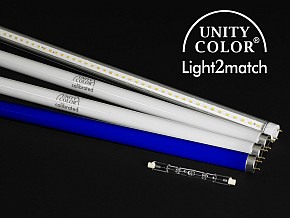 Replacement tube set with all light types for all UnityColor Light2match ceiling light models.
---