TORSO-VERLAG e.K.
Inh. Renate Wolber
Obere Grüben 8
97877 Wertheim, OT Bettingen
Telefon 09342/9339-70
Telefax 09342/9339-80
eMail shop@torso-verlag.de
Internet https://www.torso.de

UnityColor® Light2go, mobil standard light lamp with 45°- presentation stand for color vision tests
For color Vision Tests under Standard light D65 in the eye doctor's practice or at the company doctor
The lamp is predestined especially because of its double sided accessibility. The test person will be presented the back wall of the color table. Also for the industry color vision test Munsell 100-hue-test or the D15-color button vision test the lamp produces enough light on the table.
If the color variety of the used light source isn't as close to the given CIE-color variety, then a reliable execution of a print matching isn't possible. If the illumination source doesn't send a color component to the color pattern, then the color pattern of the missing piece of color cannot reflect and the observer cannot see the color.
For example: if the illumination misses a red component in its spectrum, so a powerful red color pattern seems to be orange.
During the implementation of the so called color sensing Test repeatable conditions are essential.
The minimum requirements are:
a constant illumination source with 6500 kelvin, that reflects the whole visible light spectrum from 400-700 nm (+natural content of UV-light)
a defined light intensity of at least 1000 lux (max. 5000 lx) on the object that has to be assessed (at least 2000 lx in printing industry)
without reps. minimized influence of extraneous light,
so a neutral or dark room if possible neutral dress or white or grey overall in order to avoid reflections on the color samples
Basically these conditions are also important for the color matching in a printing shop or agency but there standard light D50 is used.

Technical data:
standard light D50 (5000 Kelvin)
equipped with 2 high value daylight bulbs by GTI
color repeatability index over 90 at an even and spectral distribution
supplied incl. 45° sample box for the concrete perspective on the printings
power connection 230 V, 2 x 17 watt energy consumption
ageing resistant , UV-transmissible stray disc and specially developed reflector
desk size ca. 70 x 30 cm
optimal lighted surface ca. 50 x 30 cm
intensity of illumination 2500 lux on the working desk
distance from the desk to the lamp 30 cm
hand lamp with handle 64,5 x 13,5 cm
stable metal execution, desk in high value powder coating
neutral grey (Munsell N7)
weight hand lamp 4,2 kg / whole weight 11 kg
cable length ca. 6 m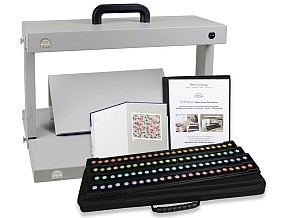 Package for qualificated testing of color vision and the ability of color distinction of people.
---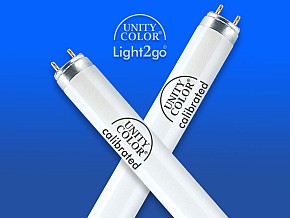 Calibrated spare lamp set for Light2go for all color temperatures, for UV light and strip light.
---