TORSO-VERLAG e.K.
Inh. Renate Wolber
Obere Grüben 8
97877 Wertheim, OT Bettingen
Telefon 09342/9339-70
Telefax 09342/9339-80
eMail shop@torso-verlag.de
Internet https://www.torso.de

UnityColor® Light2go II with UV-A Light
Equipped with 2 x 18 Watt UV-A fluorescent tubes for the visual control of fluorescent markings.
The UnityColor® Light2go II UV makes optical brighteners and fluorescent substances easily visible. The device can be used on a desktop lamp or as a mobile lamp for parts located in the interior of vehicles, for instance.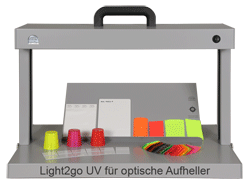 UV-A lights for detecting fluorescence are used widely in applications involving plastics, textiles, paper and safety markings. The image on the right side shows how UV light takes effect on optical brighteners in textiles and plastics.

Areas of application:
Control of fluorescent markings in plastics, adhesives, lacquers and varnishes
Verification of the genuineness of safety papers
Assessment of optical brighteners in textiles
Control of material in safety clothing
Evaluation of installed parts for expert reports
Research and development
The Light2go II UV is easy to set up as a desktop lamp in the lab or production hall and the stands can be stowed away in a desk in 3 quick movements, making it easy to transport to the next location. The high intensity of its UV-A light means that the effects are visible even when the surroundings are not completely dark.
UV light (also known as black light) is not visible to the human eye as such: what we see are substances that stimulate it. UV-A light from fluorescent tubes is not harmful to health.

Technical data:
UV-A light 320 - 400 nm, dominant wavelength 365 nm
Fitted with 2 high-grade 18 Watt UV-A fluorescent tubes
Age-resistant, UV-permeable diffuser and specially developed reflector
Desk size approx. 70 x 30 cm, total size in transport state approx. 70 x 34 x 13.5 cm (with handle)
Optimally illuminated area approx. 50 x 30 cm
Distance from desk to lamp 30 cm
Hand lamp with stirrup handle 64.5 x 13.5 cm
Sturdy metal design, desk in high-grade powder coating, neutral gray (Munsell N7)
Power supply 230 V, 2 x 17 Watt
Weight of hand lamp 4.2 kg / total weight approx. 11 kg
Cable length approx. 6 m
The tube manufacturer's data sheet can be found under "Downloads".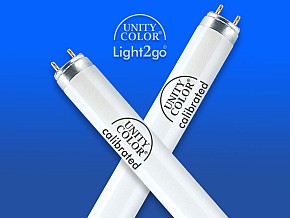 Calibrated spare lamp set for Light2go for all color temperatures, for UV light and strip light.
---