TORSO-VERLAG e.K.
Inh. Renate Wolber
Obere Grüben 8
97877 Wertheim, OT Bettingen
Telefon 09342/9339-70
Telefax 09342/9339-80
eMail shop@torso-verlag.de
Internet https://www.torso.de

Mounting Frame Work for 2, 3 or 4 UnityColor Ceiling Luminaires
Aluminium profile rail, silver anodized, material thickness 40 x 0 mm,
incl. connecting pieces, channel screw nuts, screws and nuts, end plates, 4 respectively 8 ring screws and 1 set stainless steel shackles with carabiners.
For confectioning of the shackles to hang the luminaires on the right heigt under the ceiling, we need some further informations on your room. Fot this we will send a questionary after your order.
Dimensions for 2 UnityColor Lumninaires: 74,5 x 275 cm oder 175 x 125,6 cm, weight ca. 8 kg
Dimensions for 3 UnityColor Lumninaires: 242,0 x 125,6 cm, Gewicht ca. 12 kg
Dimensions for 4 UnityColor Lumninaires: 175,0 x 265,2 cm oder 125,6 x 365,0 cm, Gewicht ca. 20 kg
For larger light constructions we offer seperate engeneering fitting on the room. Please ask us.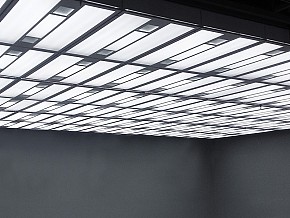 Individual planned lighting studio including metal construction, producing and mounting for the product development.
---