TORSO-VERLAG e.K.
Inh. Renate Wolber
Obere Grüben 8
97877 Wertheim, OT Bettingen
Telefon 09342/9339-70
Telefax 09342/9339-80
eMail shop@torso-verlag.de
Internet https://www.torso.de

LED Standard Light Booth UnityColor® Light2go IV with LED2match Panel
Light booth with UnityColor full-spectrum LED panel + TL84 fluorescent light
The Light2go IV Standard Light Booth with the new UnityColor
®
LED2match
©
Panel can perfectly simulate almost any light type in the visible range of the spectrum with high color rendering index values. With our multi-LED technology we have been able to improve the excellent color rendering index values of D65 and D50 fluorescent lamps even further.
In its standard version, the LED panel comes with the pre-set light types D65, D50, A, standard LED light (4000 K) and UVA light. Any number of further light types can be freely programmed with the optional app.
In addition, the light booth also features 2x TL84 fluorescent tubes so that the most commonly used type of fluorescent light (3-band light type) can be produced.
Technical data for Light2go IV LED:
Light booth with 6 light types, each switchable in 2 illuminance stages
Light types: D65, D50, A, LED, UVA, TL84 (2x 840 fluorescent tubes, can be changed for 830 or CWF)
Illuminance > 2000 lx, switchable to 50% for white samples via the LOW button
Programmed light sequence in steps of 10 seconds via: D65, TL84, A, LED
Color rendering index (CRI): D65 Ra > 95, D50 Ra > 95, A > 95
Spectral range 350 - 700 nm
Light is switched off automatically 1 hour after the last switching operation
Optional Android app for switching and programming the light booth in order to change the above parameters
Prismatic diffuser for homogeneous illumination of the booth
Viewing area 590 x 350 mm (W x D)
Unit dimensions (approx.) (W x D x H): Bottom working area 636 x 400 x 40 mm, lamp 636 x 400 x 60 mm, erected 636 x 400 x 515 mm
Silicone-free design
Performance data: 110 V - 230 V, max. 40 W (with TL84)
Developed in accordance with the requirements of DIN EN ISO 3668:2020-05 (Paints and varnishes – Visual comparison of color of paints)
Meets the standards of VDA 280 - 8 B (color testing on automobile)
Meets the standards of ISO 3664 for graphic industry, regarding to light qualility and illumination
Manufacturer's certificate of light quality for the standard light types D65, D50, A
Hour counter for all light types via the supplied standard license for the Android app
Bespoke light types and additional functions via the extended app licenses (see TAB "Accessoires")
Included with Light2go IV LED:
Light booth with LED module and 2x TL84 fluorescent tubes
Diffuser
Mains cable for Europe, 230 V
USB stick with Android app (License 0 as an hour counter) and installation instructions
Installation and operating manual
Deliverable from end of November 2022
Techn. differences on the mechanic components between the new serial unit and the here shown photos are possible.
The probe stand on the photo above is an option, please see under the tab "accessoires".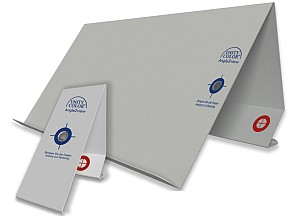 The Setting Angle and the bigger sample holder help to find the correct observer angle of 45°.
---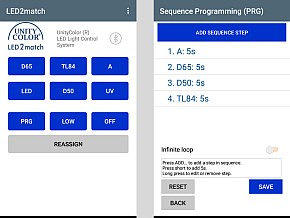 Mobile app for LED light booths with keys for 6 light sources, programmable light sequence and some setup functions.
---