TORSO-VERLAG e.K.
Inh. Renate Wolber
Obere Grüben 8
97877 Wertheim, OT Bettingen
Telefon 09342/9339-70
Telefax 09342/9339-80
eMail shop@torso-verlag.de
Internet https://www.torso.de

PDV-2e
Foldable, light weight unit with D50, also usable for color matching onthe way
The mobile Standard light cabine PDV-2e with graphical standard light D50 for reliable color matching in the agency, print shop, at customers office and at different places in the own company.
A perfect hinge technic allows an easy and quick folding and mounting of this standard light cabin without any tools.
Standard mounting with 2 D50 standard light tubes
Premium neutral laquer in Munsell N7
Clip bar to hang-up prints and proofs
Illuminated area approx. 33x 49 cm
Maintainance free, light tubes will be changed by customer, no calibration required
By the use of light tubes very low power consumption
2500 hours warranty on the standard light tubes
Optional with sidewise light protection plate available.
Optional available with electronic dimmer (please choose at the options menue above)
The PDV family offers for every required dimensions in pre press a low pricing solution.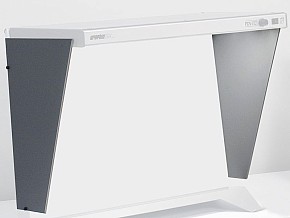 Light protection plate for PDV-2e and PDV-2e/D for shielding sidewise incident light.
---