TORSO-VERLAG e.K.
Inh. Renate Wolber
Obere Grüben 8
97877 Wertheim, OT Bettingen
Telefon 09342/9339-70
Telefax 09342/9339-80
eMail shop@torso-verlag.de
Internet https://www.torso.de

LED Spot Inspection Light III
New battery inspection lamp for surface control with directive light and variable reflector
The robust and handy test lamp has been designed for industrial use and can be used in almost all areas of surface inspection. Due to directional lighting and high light intensity surface defects such as gloss, lean spots, paint mist, scratches, inclusions, orange peel or cloudiness can be easily detected.
The illumination value can be regulatet in 3 steps to avoid direct glare.
The light cone can be adjusted with continuously pulling on the lighting head.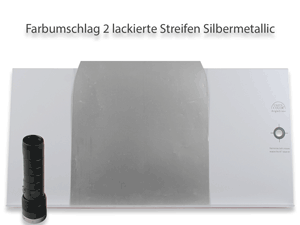 Typical applications:
Evaluation of effect pigments, particle size and surface density
Detection of thin spots, e.g. in the effect paint
Testing of polished surfaces for holograms or polishing defects
Structural examination on surfaces, evaluation of surface defects
Checking the opacity of coatings
Beneftis of the Spot Inspection Light III:
High illumination, adjustable in 3 steps
Adjustable spot size
Mobile with belt bag
USB connector for recharching
Technical specifications:
Directed LED light with adjustable light cone, max.headlight range with min. spot ca. 300 m (at night)
Light color cool white 6000 Kelvin
3 switching steps for brightness, max. 1000 lm, mid. 200 lm, min. 10 lm
Lighting durability on max. power ca. 9 h
Lithium ion battery, recharchable by USB connector (power supply and cable not included)
Dimensions: 155 x 45 mm, weight 250 g
Sturdy design made of aluminium with
Supplied with protective belt case, recharchable battery and 4 color filters
5 years warranty
Note: The test light is not suitable for color evaluation. Only for surface control.