TORSO-VERLAG e.K.
Inh. Renate Wolber
Obere Grüben 8
97877 Wertheim, OT Bettingen
Telefon 09342/9339-70
Telefax 09342/9339-80
eMail shop@torso-verlag.de
Internet https://www.torso.de

UnityColor® Table2work - adjustable Column Table -working and laboratory furniture
Electrical height adjustable work bench and desk with big middle column
Height adjustable desks enable an ergonomically function in the colorimetry and the right visual angle in light cabins, in case assistants with different sizes working in quality control or color laboratories.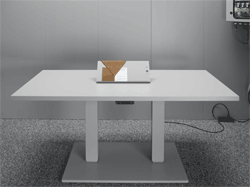 This desk is an optimum for quality and stability which we could have found for you at the market. Because of 2 columns a steady going and low vibration moving is guaranteed.
With a dead load of 120 kg and a carrying capacity of guaranteed 100 kg this desk features a sufficient stability, force and reserves for also lifting heavily viewing booths almost vibration free.
The big desk top additional makes way for preparation of the samples.
electrical comfort height adjustment from 71 - 123 cm height of desk top (regular size = 72 cm), suitable as perch and standing room.
electrically height adjustable by remote control
3 users can store there own settings
electrically height-notification display
high strength telescope column of 10 x 10 cm made of steel, powder coated RAL 7004 neutral grey
table masses 160 x 80 cm, thickness 3 cm, other masses possible on request
desk top available in different pattern, standard is NCS 3000 N neutral grey, other colors on request
electrification fence cable channel
Electrification with Linak® power unit
12V continuous current motor
power input 300 W
unit weight 120 kg, max. load 120 kg
1-year warranty
assembled delivery
The lifting device can also be used for other applications like working units or machines with a gross weight of max. 120 kg.