TORSO-VERLAG e.K.
Inh. Renate Wolber
Obere Grüben 8
97877 Wertheim, OT Bettingen
Telefon 09342/9339-70
Telefax 09342/9339-80
eMail shop@torso-verlag.de
Internet https://www.torso.de

UnityColor® CVTStation, Color Vision Test Station
Color vision and color judgement, qualified test for: industry – design – science
Two-stage method with which you can determine the color vision and the ability of color distinction for "qualification of the test equipment human-being".
CVTStation, Color Vision Test Station, is an equipment-set with all necessary components for an accurate execution of color vision tests for industry. A medical education is not needed. That's why the tests can be executed by qualified specialists.
Execution and evaluation may take ca. 30 to 40 minutes per each person. The evaluation and the issuance of all certificates will be done in an easy and fast way.

UnityColor CVTStation contains:
Farnsworth-Munsell 100 Hue color vision test to determine the color judgement ability
Evaluation-software for FM 100 Hue test
Velhagen / Broschmann book wit 36 boards to test the color sense and to determine dyschromatopsia (35. edition)
UnityColor Light2go with standardised light D65, table-lamp with worktop
45° stand Angle2view maxi with cross line for hight setting for vision tests with reference book
45° stand for vision tests with reference book
Detailed guidance and training documents
Evaluation guidelines
Patterns for mass screening, certificates and confirmation
Target groups are:
Employees of color quality control in color laboratory used in printshop and pre-printing
Designer, architects, colorists, trendscouts
Applicants for professions that require the ability of color judgement
All persons that need to trust in their correct color vision

Small and medium-sized businesses often do not have the necessary equipment and qualifications that are needed in order to perform a test. CVTstation is ideal for the expansion of competences and frameworks of company physicians and service providers in industry.
More information and a detailed description of all components can be found under "downloads".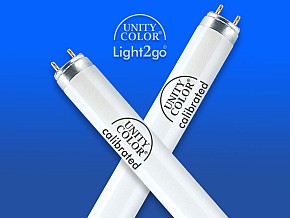 Calibrated spare lamp set for Light2go for all color temperatures, for UV light and strip light.
---