TORSO-VERLAG e.K.
Inh. Renate Wolber
Obere Grüben 8
97877 Wertheim, OT Bettingen
Telefon 09342/9339-70
Telefax 09342/9339-80
eMail shop@torso-verlag.de
Internet https://www.torso.de

NEW micro-gloss Glossmeter 60° S for higher precision
The micro-gloss S Glossmeter for 60° was designed for the most demanding quality control with very small tolerances. Compared with the previous micro-gloss product family, it provides an increased precision for 60° in the critical matt gloss area (0-10GU). It combines the in many cases approved handiness and the calibration holder with a unique functionality - coordinated to the requirements of today's quality standards. The micro-gloss S provides gloss values of any material such as paint, plastic, or highly reflective metal up to 2000 gloss units. Automatically and always reliable and conforming to norm. Due to clearly arranged menus and the scroll wheel the operation is very easy. The also new included smart-chart software allows rapid quality control reports and integration of all data from all BYK measuring units.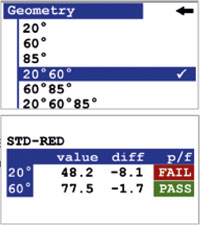 Features:
Measurement of current value, mean, min. and max.
Differential measurement and pass/fail with a reference memory for 50 patterns with limits.
Statistics, number of tests per sample selective from 2-99
Display in 3 columns selectable for the current value, mean, min/max, margin, standard deviation, difference and pass/fail.
Memory for 999 measurements with date and time, available at any time
Intelligent auto diagnostic reports necessary calibration and soiling.
Clear reporting for quality control reports due to smart-chart software
Automatic shutdown (selctable between 10 to 99 seconds.
New LED illumination
New color display with better contrast
New Software smart-chart (per Download)
Meets the following standards: ASTM D 523 & D 2457 / DIN 67530 / ISO 2813 & 7668 / JIS Z 8741

Technical data:
Measuring area at medium gloss 60°: 9 x 15mm
Measuring time: 0,5 seconds
Measurement range: 0 - 10 GU 10 - 100 GU 100 - 2000 GU
Repeatability: ± 0,1 GU ± 0,2 GU ± 0,2 GU
Reproducibility: ± 0,2 GU ± 0,5 GU ± 0,5 GU
Interface RS 232 (optional USB adapter as accessory)
Operating temperature 15 - 40° C at max 85% rel. humidity, non-condensing
Power supply with 1.5 V AA alkaline battery or external power supply
Patented lighting control for outstanding accuracy over years
No change of lamps required, 10-years warranty on the light source
Switchable in English, German, French, Spanish, Italian and Japanese
Dimensions: 155 x 73 x 48 mm. Weight: 0,4 kg

Scope of delivery::
Gloss measuring unit
Tubular with integrated calibration standar
Traceable certificate
USB cable
Software smart-chart per Download
Instruction manual
Battery
carrying case
2 years warranty.